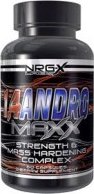 NRG-X Labs 1,4 Andro MaXX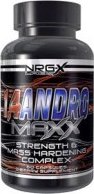 NRG-X Labs 1,4 Andro MaXX
No water gain
Lean mass gains
Increased and deeper cuts (this is perfect for dieting and pre-contest)
More (WAY MORE!!) testosterone (lean mass gain, more strength, increased sexual stamina and desire!)
ZERO estrogen conversion!
1-Androsterone, 4-Androsterone and 3 5 7-trihydroxy-4-methoxyflavone (the active ingredient in Novedex XT and 6-OXO) combine to produce lean and hard strength gains from DAY ONE!

1-Androsterone and 4-Androsterone (1-AD, 4-AD) combine with 3 5 7-trihydroxy-4-methoxyflavone to produce a testosterone RICH environment all while producing ZERO estrogen conversion! 1,4 Andro MaXX by NRG-X Labs is a true prohormone complex that has ZERO side effects and is completely FDA legal.

In our labs tests - 1,4 Andro MaXX users saw an weight increase of 50+lbs added to their raw power movements like deadlift, squat and flat bench. Just imagine what you could do to your body with an extra 50lbs hanging off the end of that bar!!

With our exclusive blends you'll see and FEEL gains from DAY ONE; our compounds hit your blood stream quick and you don't need 2-3 weeks of loading; meaning you get more for your money with each cycle since you get results from the first dosage!!
Supplement Facts:

Serving Size: 2 Capsules
Servings Per Container: 30

Amount Per Serving:
NRG Andro Complex 150mg
1-Androsterone, 4-Androsterone, 3 5 7-trihydroxy-4-methoxyflavon

NRG Andro BOOST Complex 150mg
ALA (Alpha Lipoic Acid), Vanadyl Sulfate, DHB

Other Ingredients: Gelatin, Rice Powder, Magnesium Stearate
Note: Manufacturers continually change product specifications. While we try our best to keep product descriptions up to date, they do not necessarily reflect the latest information available from the manufacturer. We are not responsible for incorrect or outdated product descriptions and/or images.

These statements have not been evaluated by the Food and Drug Administration. This product is not intended to diagnose, treat, cure, or prevent any disease.