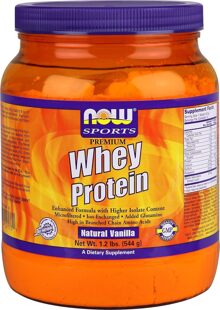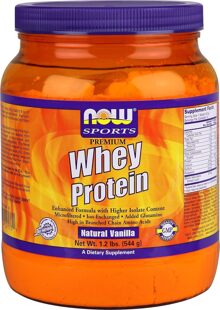 NOW Whey Protein Highlights:
All Natural - No Artificial Ingredients!
Microfiltered
Ion-Exchanged
High in Branched Chain Amino Acids
Added Glutamine
All Natural - No Aspartame, No Sucralose, No Acesulfame-K
Mixes Easily and Tastes Great!
NOW Whey Protein is a delicious blend of three of the highest quality whey protein concentrates, isolates and hydrolysates from around the world: Ultrafiltered, Cross-Flow Microfiltered and Enzymatically Hydrolyzed (partially predigested). This blend of specially processed whey proteins is designed to maximize amino acid absorption and Biological Value (BV). Extra L-Glutamine has been added (380-460mg per serving) because of its important role in protecting muscle tissue from breaking down under stressful, vigorous physical activity.*
Whey protein is considered to have the highest Biological Value of any protein source - superior in essential amino acid content to beef, milk, casein or soy.