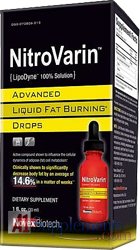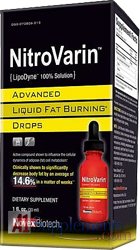 Advanced Liquid Fat Burning Drops
Active compound shown to influence the cellular dynamics of adipose (fat) cell metabolism.
Clinically shown to significantly decrease body fat by an average of 14.6% in a matter of weeks
NitroVarin is a revolutionary liquid fat burning serum
that influences the cellular dynamics of adipose (fat) cell metabolism. Its active compound has been clinically shown to significantly decrease body fat (an average 14.6% in ten weeks†, to be exact) so you'll look massive, ripped and toned as you reduce body fat and retain definition.
In a published, randomized, double-blind,
placebo-controlled clinical study, 48 obese and overweight participants were divided into 2 groups, and were told to take either the active compound or a placebo before 2 main meals, with an 8-ounce glass of water. No major dietary changes nor exercise were suggested during the study. During the 10-week study, the group that took the active compound showed an average of 14.6% body fat lost and an average of 19.4 pounds lost without any major changes in diet or exercise. However, it is always advisable to engage in a sensible diet and exercise program.

Supplement Facts:
Serving Size: 1 mL
Servings Per Container: 30
Amount Per Serving:
Niacin (as nicotinic acid) 45.00 mg
Proprietary Blend Containing: 261.00 mg
D-Ribose
Caffeine
Green Tea (leaf) Extract
Cissus quadrangularis (aerial parts) Extract
Other Ingredients: Water, Glycerin, Sorbitol, Sucralose, Natural and Artificial Flavors, Lactic Acid, Sorbic Acid, Sodium Benzoate, Xanthan Gum
Note: Manufacturers continually change product specifications. While we try our best to keep product descriptions up to date, they do not necessarily reflect the latest information available from the manufacturer. We are not responsible for incorrect or outdated product descriptions and/or images.

These statements have not been evaluated by the Food and Drug Administration. This product is not intended to diagnose, treat, cure, or prevent any disease.