Quick Links to Best Prices Price History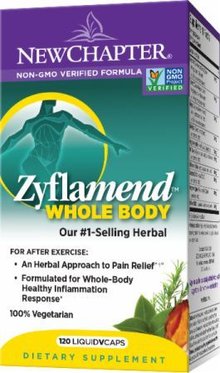 New Chapter's #1-Selling Herbal
An Herbal Approach to Supporting the Relief of Soreness after Exercise*
Non-GMO Project Verified, Gluten Free & Vegetarian
Healthy Inflammation Response— Zyflamend helps balance and support the whole body's natural, healthy inflammation response after excercise.*
Herbal Soreness Relief— Zyflamend delivers full-spectrum Ginger to help relieve soreness related to exercise, such as a workout or brisk walk.*
Power of 10 Herbs— Zyflamend's proprietary 10-herb blend delivers the full-spectrum of whole herbs, not isolated compounds.
Keeps You Moving— The whole-food Ginger in Zyflamend supports flexibility and comfortable movement with complementary Rosemary, Turmeric and Green Tea.*
Super Pure & Potent— New Chapter uses only supercritical CO2 or traditional techniques to deliver super-pure, super-potent herbal extracts in this 100% vegetarian formulation. +With Ginger
Discover the New Chapter Difference
Here's the Proof
B Corp Certified
New Chapter is a certified B Corp. B Corps aim to inspire all businesses to compete to be not only the best in the world, but to be the best for the world. From sustainability to sourcing to philanthropy—and much more—you'll love how we do things.
Our Organic Mission
Since 1982, New Chapter has been dedicated to seeking organic sources. You'll find our multivitamins are made with certified organic vegetables and herbs.
Committed to Non-GMO Ingredients
We're committed to ingredients you can trust—like organic fruits, vegetables, herbs and grains—and we're committed to avoiding GMOs (genetically modified organisms) whenever possible.
Certified Kosher
New Chapter whole-food fermented multivitamins and LifeShield mushrooms are certified by Union of Orthodox Jewish Congregations of America.
Gentle to Take
Our whole-food fermented vitamins are gentle enough to take anytime, even on an empty stomach. All of our multivitamins are fermented with whole foods and beneficial probiotics.
100% Wild-Caught Fish Oil
Wholemega naturally pure, 100% wild-caught salmon oil is sustainably sourced from pristine Alaskan waters.
Verified Mushrooms
To match, verify and guarantee each and every mushroom strain in our LifeShield mushroom supplements, we use state-of-the-science technologies, including identification through mushroom DNA testing.