Warning: This product is not currently available at any store.
Click the button above and PricePlow will email you when the first store has it in stock!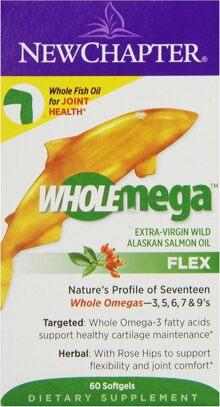 New Chapter Wholemega Flex
New Chapter Wholemega Flex Description
Omega-Rich Fish Oil for Healthy Joints
Extra-Virgin Wild Salmon Oil
100% Sustainability Wild-Caught Salmon
100% Wild Alaskan Salmon
Nature's Whole Complement of Seventeen Omegas - 3,5,6,7,8 & 9'ss
Effective: Whole omega fatty acids promote joint flexibility & movement
Herbal: Target herbs soothe joints and promote normal cartilage production
Holistic
Nature's Whole Joint Health Formula
Wholemega Flex combines clinically researched, naturally pure whole fish oil with tonic herbs that target joint health support. The result is a whole-food joint-health formula designed to nourish moving joints and help you move freely.
A clear alternative to fractionated and "purified" fish oils, Wholemega Flex delivers naturally pure, Omega-Rich Wild Alaskan Salmon oil, Combined with targeted joint-support herbs, these natural ingredients work together to promote a healthy inflammation response and normal cartilage production - the critical tissue that gives our joints structure, support, and cushioning.
Health
Omega-Rich Joint Support: Whole omegas like those in Wholemega Flex help reduce exercise-related pain, stiffness, and joint tenderness.
Herbs for Mobility: Research show that Rose Hips, Turmeric and Ginger help support healthy joints, cartilage function, and a healthy inflammation response.
Whole Food: Provides a clinical dose of wild Alaskan salmon oil: a whole-food alternative to highly processed and "purified" conventional fish oils.
Extra Virgin Process: Pressed in a proprietary process similar to fine olive oil, Wholemega Flex preserves natural antioxidants and Vitamin D3 that can be destroyed in other fish oils after processing.
Three Servings of Salmon: Taking Wholemega Flex every day for a week provides the same amount of whole omega fatty acids as three servings of Wild Alaskan Salmon.
Directions
Three softgels daily immediately before a large meal. For best results, take one softgel right before lunch and two right before dinner. Store in a cool, dry place. Do not refrigerate.
Free OfGluten, chemical solvents, prion.DisclaimerThese statements have not been evaluated by the FDA. These products are not intended to diagnose, treat, cure, or prevent any disease.