Quick Links to Best Prices Price History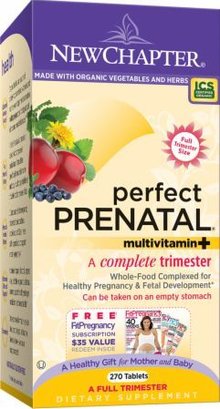 New Chapter Perfect Prenatal
Healthy Pregnancy - Fetal Development*
Gently, Whole-Food Complexed Vitamins + Minerals + Herbs
Nutritional Support—for Your Growing Needs
When you're pregnant, your shape starts to change in new ways, and your fitness and nutrition needs change too. Now, more than ever, you want to make healthy decisions that help support both you and your developing baby. Perfect Prenatal is formulated specifically to nourish mother and baby, and it's easily digested, even on an empty stomach.
Many conventional multi-vitamins are synthetic, chemical "isolates" that lack the whole-food benefits found in nature. It's no wonder they can upset your stomach. By contrast, New Chapter multivitamins are easy on your stomach because they're whole-food complexed–cultured in live probiotics with organic fruits, vegetables, and herbs. The result is nutrition your body easily recognizes and absorbs, the way Nature intended. New Chapter multis are more than food supplements, they're Supplemental Food.
Perfect Prenatal whole-food complexed multivitamin includes herbs and cultured whole-food complexed vitamins and minerals, including targeted levels of whole-food complexed Folate, that work together to promote specific benefits, not just address nutrient deficiencies.* A safe herbal blend combines whole foods and Class 1 herbs with live probiotics to support a healthy pregnancy. In addition, a targeted blend of Broccoli, Kale, and other cruciferous sprouts supports healthy hormone balance and breast health.* The once-per-meal formula is easy-to-take, easy-to-digest, and can be taken anytime–even on an empty stomach!
Also, all New Chapter multivitamins are Non-GMO Project verified. That means these multis are made without genetically modified organisms (GMOs). New Chapter believes organic ingredients—grown the way Nature intended—are better for people and the planet. In fact, New Chapter was the first vitamin and supplement company in the nation to achieve Non-GMO Project Verification.