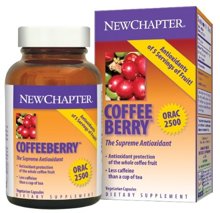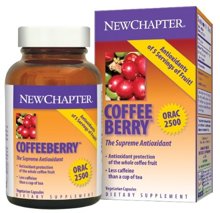 Rich in Polyphenols and Essential Sugars
CoffeeBerry is abundant in polyphenols that:
Help preserve natural antioxidants in the body*
Protect cell membranes and human plasma against damaging oxidation*
Neutralize toxic free radicals*
Help support healthy blood glucose levels already in normal range*
CoffeeBerry contains five of eight rare and essential sugars called monosaccharides. Research indicates these glyconutrients are essential for the various complex biological systems to interact and function properly to reduce free-radicals and to initiate cellular repair.*
Polysaccharides, such as mannans and arabinogalactans, make up almost half the dry weight of CoffeeBerry. Conventional roasting destroys these nutrients, so they're not found in traditional brewed coffee.
Thanks to the patent-pending technology exclusively licensed to New Chapter by VDF FutureCeuticals, the extraordinary health benefits of fresh, ripe coffee fruit are available for the first time.
And for those of you who don't like the jolt of coffee, the great news is that New Chapter's CoffeeBerry Whole Coffee Fruit Concentrate contains less than 1% caffeine, which means that a daily serving contains no more caffeine than one-tenth of a cup of tea.
Beyond the Bean: The Whole Coffee Fruit
Like many fruits, the coffee fruit is designed to nourish and protect its seed. The coffee bean is not the whole coffee fruit, no more than a peach pit is the peach. People who live in the coffee-growing regions of the tropics know this, and have traditionally benefited from the powerful antioxidants in the whole coffee fruit. The rest of us, until now, have had to make do with just drinking the roasted coffee seeds. It's time to experience the complete antioxidant richness of this miraculous fruit! To appreciate the unique antioxidant power of CoffeeBerry Whole Fruit Concentrate, with an ORAC value of 2500, we've compared it to other respected antioxidant fruits:
ORAC Activity of 400mg of CoffeeBerry Blend Compared to Similar Amounts of Top Antioxidant Fruits

CoffeeBerry
2500†
Blueberries
9.6‡
Strawberries
6.2‡
Raspberries
4.9‡
Oranges
3.0‡
Grapes
2.9‡

† ORAC Units for CoffeeBerry Blend verified by Brunswick Laboratories

‡ ORAC Units on Antioxidant Fruits as measured by USDA Center for Aging at Tufts University
ORAC stands for Oxygen Radical Absorbance Capacity. Free radicals of oxygen can be detrimental to the body. Foods with high ORAC values can absorb and neutralize those damaging free radicals and thus support critical protection against that damage.*