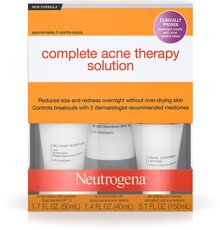 Neutrogena Advanced Solutions Complete Acne Therapy System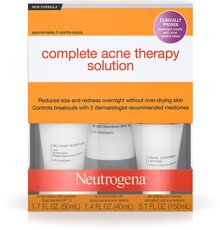 Neutrogena Advanced Solutions Complete Acne Therapy System
Works faster than Proactiv on pimples
Begin to see your acne disappear in as little as 2 days.
Clinically proven to reduce acne-causing bacteria in just 48 hours.
Includes prescription-grade medicine.
Continuous acne control 24/7.
Clinically proven to help shut down the acne cycle for consistently clearer skin.
Treat your acne the way a dermatologist would...with multiple medicines.  Neutrogena partnered with dermatologists to design a breakthrough acne regimen you can use at home. 
Advanced Solutions™ Complete Acne Therapy System
contains two different dermatologist recommended medicines plus a lightweight, oil-free SPF lotion to clear acne and help protect skin from sun damage.  It's a complete system that works on all skin types to give you visibly clearer skin.
Clinically Proven To:
Reduce blackheads, whiteheads, redness, and inflammation
Reduce oiliness
Kill acne-causing bacteria
Improve skin texture/reduce bumps
Visibly reduce appearance of acne
Provide SPF protection
Made in USASystem Includes
:
Skin Polishing Acne Cleanser - 5.1 fl oz (150 mL) contains salicylic acid and microfine beads to effectively deep clean and gently exfoliate pore-clogging skin cells.  Leaves skin clear and fresh.
Sun Shield Day Lotion - 1.7 fl oz (50 mL) with SPF 15 and DermaNaturals™, a proprietary botanical complex, calms and protects irritated acne-prone skin.  Promotes the return of healthy-looking skin.  Non-greasy.
* These statements have not been evaluated by the Food and Drug Administration. This product is not intended to diagnose, treat, cure, or prevent any disease.