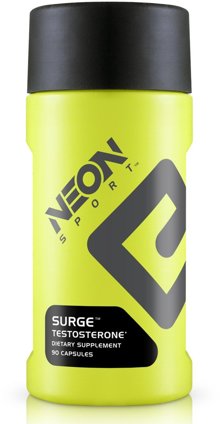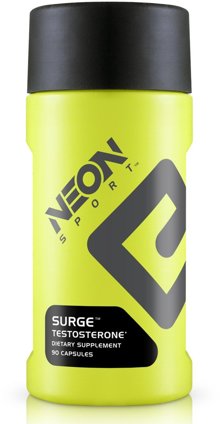 The fourth supplement released by Neon Sports is packed with amazing ingredients: Surge is the company's natural testosterone booster with a cost effective formulation that will go well with most stacks.
Surge ingredients
Neon Sports packs Surge with interesting standard test boosting ingredients that keep up with other brands
Zinc monomethionine
The production of testosterone lowers naturally with age but a zinc deficiency may also be to blame for lower hormone levels. [1]
Studies show that treating zinc deficiency can halt the reduction of testosterone production. [2] The RDA for zinc is 11mg per day. Experts suggest getting your RDA of zinc from dietary sources, like meat. [1]
Uses
The body depletes zinc levels quickly. The mineral is used in:
Immune function

Protein synthesis

DNA synthesis

Cell division

Wound healing

Growth and development during pregnancy, childhood and adolescence

Sensory nerve health

Used in almost 100 enzymes
Bodybuilders use a lot of zinc when making muscle proteins. Since the body doesn't store zinc, the mineral needs to be replenished through diet or supplements each day. Top dietary sources include oysters, crabs and lobster.
Surge plays a role in boosting testosterone production by maintaining healthy zinc levels. With about 30mg of zinc, Surge provides more than enough to prevent deficiency.
Tribulus terrestris fruit extract
A well-known natural extract used by bodybuilders during post cycle therapy, tribulus terrestris may help restore libido. [3]
After a test boost cycle and experiencing adrenal fatigue, many users claim tribulus helped increase their libido, possibly also a result of increased testosteronel levels. More studies are needed to establish the testosterone boosting effects of tribulus. Still, satisfied userreviews praise its libido-raising effects, even after extensive steroid use.
Another study found that tribulus may raise androgen levels, which correlates to an increase in libido. [4] Androgen is another hormone that is important to bodybuilders. It has a masculinizing effect that increases muscle growth, muscle definition and improves strength and endurance.
---
Testosterone matrix
Neon Sports Surge features a blend of ingredients with possible testosterone-boosting effects. The following ingredients may increase levels of the hormone. Various studies have established the efficacy of the ingredients. [6, 7, 8, 9, 10, 11, 12, 13]
Fenugreek seed extract

Stinging nettle root extract

Rosemary leaf extract

Milk thistle seed extract

Saw palmetto fruit extract

Horny goat weed extract

Turmeric root extract

Rhodiola rosea root extract
---
Side Effects
Testosterone boosters always have side effects. Even natural hormone-modifying supplements like Surge carry a serious warning tag.
Before taking Surge, consult your health care provider.
Warnings
Cycling: Test boosters need to be cycled to prevent adrenal exhaustion. Tribulus may help with this. However, to avoid complications, you still need to cycle off Surge. If you're not taking other steroidal supplements, cycle off Surge 1 to 2 weeks for every 4 weeks. Also, avoid alcoholic beverages while taking Surge. Neon Sport Surge should not be stacked with other stimulants or steroid products. To minimize possible side effects, use Neon Sports Intercept during your post cycle therapy.
When dealing with hormone-modifying supplements, be sure you're making informed decisions. Natural supplements like Neon Sports Surge are relatively safer but you should be cautious when adding to your stack.
Drug Interactions
You should consult your doctor before taking Surge if you're on the following medications:
Monoamine oxidase inhibitors (MAOIs)

Selective serotonin reuptake inhibitors (SSRI)

CNS depressants

Anti-insomnia drugs

Anticoagulants or blood thinners

Anti-diabetic drugs
Medical conditions
If you have the following medical conditions, talk to your doctor before taking Surge:
Blood pressure irregularities

Low HDL levels

Diabetes mellitus

Prostate disorders

Cardiac disorders

Liver, kidney and thyroid gland conditions

Seizure disorder

Mental and pschiatric disorders, including depression
---
Where to Buy
Search for Surge on PricePlow. You can also compare different brands under the same category.
---
References