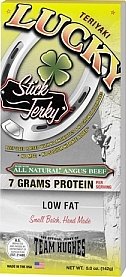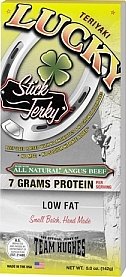 Nebraska Star Beef is a small, family owned business that has been producing premium beef for over 100 years. Over the past decade we took a step back and started raising cattle the same we did in the old days: with less pressure, no chemicals, a lot more focus on herdsmanship and fair prices. We sum this up as our Pure Promise. If you would like to learn more about Nebraska Star Beef Natural* Angus products scan the QR code below to see our company video.
Contains 5 individually packaged portions of Lucky Brand Natural* Angus beef jerky. Each package contains 10 grams of great tasting protein that is essential for on-the-go individuals who demand the best and know the difference.
*Beef used with no antibiotics & no growth hormones.
*No MSG
*No Sodium Nitrate Added*