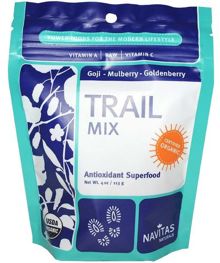 Navitas Naturals Trail Mix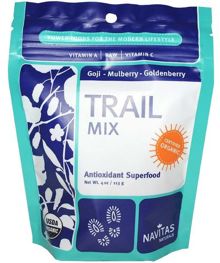 Navitas Naturals Trail Mix
Navitas Naturals Organic Trail Mix Blends Mulberry Goji and Goldenberries Description
Power Foods For The Modern Life
Vitamin A • Vitamin C • Raw
Antioxidant Superfood
Certified Organic
Kosher, Vegan
Trail mix was invented by ancient nomads who were experts at creating portable, high-energy snacks that withstood weather and did not need cooking. This bag contains 100% pure goji berries, mulberries and goldenberries that are certified organic, kosher, non-gmo, gluten free and raw
This antioxidant and nutrient-rich combination will delight you by giving you energy throughout the day or on your next outdoor adventure. The health benefits afforded by snacking on the nutritious blend are superior to eating any of these superfoods alone.
The mission of Navitas Naturals is to provide premium organic superfoods that increase energy and enhance health. Our products are of the highest quality, sourced directly from farmers, cultivated sustainably and in accordance with fair trade practices.
Directions

Free Of Gluten. Disclaimer These statements have not been evaluated by the FDA. These products are not intended to diagnose, treat, cure, or prevent any disease.