Quick Links to Best Prices Price History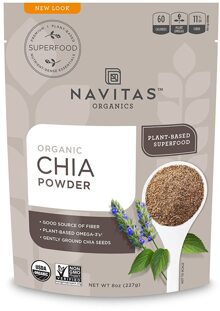 Navitas Naturals Chia Powder
Navitas Naturals Organic Sprouted Chia Seed Powder Description
Power Foods For The Modern Lifestyle
Antioxidants • Omega Fatty Acids • Calcium
Sprouted Chia Powder
Aztec Superfood
Certified Organic
Gluten-free
Kosher
Vegan
Aztec Sprouted Superfood
Long used by the Aztecs as a staple food along with corn and beans, chia seeds are enjoying a tremendous resurgence in the health food community due to their impressive nutritional profile. Navitas Naturals offers an exciting new way to enjoy chia seeds: in a sprouted, finely milled powder. Inherently full of healthy omega fats, protein, antioxidants and dietary fiber, the small chia seed's nutrition is even more enhanced by the process of sprouting. This germination of the seeds increases the nutritional profile and enzyme content, and allows the food to become more easily digested and assimilated within the body. Simply mix a spoonful of this nutritious mildly nutty powder in with oatmeal or yogurt, or enjoy as a gluten-free flour substitute. Any way you use it, a little chia has a lot to offer.
Source and Processing
Navitas Naturals Chia Power is made from chia seeds grown in Chile. The seeds are sprouted prior to milling to increase nutrient content and improve bioavailability. Our low temperature processing maximizes the nutritional benefits, while increasing shelf-stability and eliminating the need for refrigeration. This is a single ingredient product–just sprouted chia -- that is raw, gluten-free, kosher, and vegan.
Directions
Mix into drinks, smoothies, oatmeal, yogurt, tea and desserts. Easy to use in bake goods too.
Free OfGluten.DisclaimerThese statements have not been evaluated by the FDA. These products are not intended to diagnose, treat, cure, or prevent any disease.
Nutrient Facts