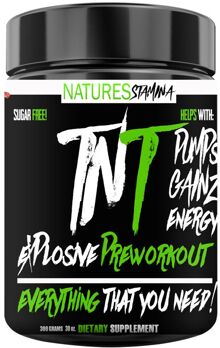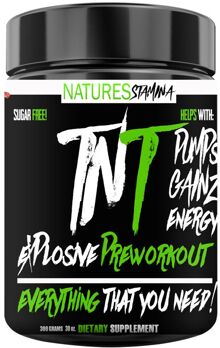 While Supplies Last!
Nature's Stamina TNT - All Natural Pre-Workout! Increased Energy & Pumps!
Stimulates Muscle Growth & Mental Focus that causes an Explosive Workout!

With so many major and independent brands in today's market, many feel they need some form of chemical-lab created formula in order to give them the energy that they need. This is where Natures Stamina Supplements steps in with TNT Explosive Pre-Workout. TNT Explosive Pre-Workout is formulated with all natural ingredients to bring you an Experience that is Unforgettable.

What sets TNT Explosive Pre-Workout apart from the crowd? While most other brands use ingredients created in a lab, we stick with what nature has provided through a special blend of all-natural ingredients. We focus primarily on Vitamins and an all natural Focus Blend that will help improve Natural Energy and Endurance.

Train and Go To War with Explosive Energy and Mental Focus that will leave your workouts wanting more! TNT Explosive Pre-Workout is what you have been waiting for! Let's be honest. Your tired of playing guessing games with the current formula you have, wondering if an extra scoop could send you to the Hospital! Time out for that Garbage! Your heart is important and must be fed a special blend of Vitamins & Minerals that will dramatically improve your Energy Naturally.

Benefits of TNT Explosive Pre-Workout

Helps with the Following:
Natural Energy and Strength
Explosive Intensity
Improved Recovery
Mental Focus and Precision
Can you say - PUMPS and Gainz!
Increased Blood Flow &
Self Motivation!
Mixes Well!
SUGAR FREE!

Take a look at the formula:

Potassium: Potassium is a mineral that is found in many foods and is needed for several functions of your body, especially the beating of your heart. This mineral serves many purposes in the body. It primarily acts as an electrolyte that helps control muscle and nerve function.
Potassium is also vital to heart health, urinary function, acid-base balance, gastrointestinal motility and various enzyme reactions.

Vitamin B1: Thiamine is a vitamin, also called vitamin B1. Vitamin B1 is found in many foods including yeast, cereal grains, beans, nuts, and meat. Thiamine is an essential nutrient that all body tissue needs to function properly. Thiamine was the first B vitamin that scientists discovered. This is why its name carries the number 1. Like the other B vitamins, thiamine is water-soluble and helps the body turn food into energy.

Vitamin B2: Is a vitamin that is needed for growth and overall good health. It helps the body break down carbohydrates, proteins and fats to produce energy. It also allows oxygen to be used by the body.

Vitamin B3: Like other B vitamins, niacin helps the body break down carbohydrates, fats and proteins into energy, according to the University of Maryland Medical Center. In addition, it plays a role in gland and liver function. "Niacin has a role in producing certain hormones in the adrenal glands and helps remove harmful chemicals from the liver.

Vitamin B6: Vitamin B6 is important for heart health, the digestive tract, muscular function, energy, as well as, other bodily processes.
Vitamin B12: Vitamin B12 is a nutrient that helps keep the body's nerve and blood cells healthy. It also helps produces DNA which is the genetic material in all cells. Vitamin B12 helps prevent a type of anemia called megaloblastic anemia that makes people tired and weak.

Calcium: Uses of calcium include cell communication, neural signals and muscle contractions. As well as helps with Bone health.

L-arginine: L-arginine stimulates protein synthesis, which helps the body build muscles, and increase their size, strength and endurance.

Beta Alanine: Beta alanine enhances carnosine concentrations in skeletal muscle, which increases your body's ability to buffer H+ production and offsetting the "burning" sensation. The end result is reduced fatigue and significantly greater endurance yielding superior performance and gains!

Caffeine: WHY NOT! Helps to stimulate memory, focus and energy.

Waxy Maize: Waxy maize supplies to your body are converted to glycogen, which your muscles use for energy. After a tough workout, when your glycogen stores are depleted, waxy maize helps revitalize your muscles quickly.

L-Taurine: Taurine promotes cardiovascular health, insulin sensitivity, electrolyte balance, hearing function, and immune modulation.

L-Tyrosine: Tyrosine is a popular dietary supplement used to improve alertness, attention and focus. It produces important brain chemicals that help nerve cells communicate and may even regulate mood

To view our full blend of TNT Explosive Pre-Workout, we encourage you to review the NUTRITION FACTS.

These are just a few of the powerful natural compounds you will find in this amazing formula – of course, TNT Explosive Pre-Workout is 100% safe, in fact, it's much safer than some of the questionable compounds that are out there!

Increase Your Workouts & Naturally with TNT Pre-Workout By, Natures Stamina!
Note: Manufacturers continually change product specifications. While we try our best to keep product descriptions up to date, they do not necessarily reflect the latest information available from the manufacturer. We are not responsible for incorrect or outdated product descriptions and/or images.