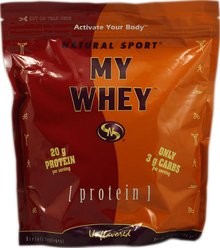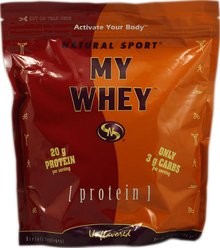 Natural Sport My Whey Unflavored Description
Activate Your Body

20g PROTEIN Per Serving

Only 3g CARBS Per Serving

Unflavored
Did You Know?
The Biological Value (BV) is a measurement of how much nitrogen is absorbed by the body. Whey protein has a BV of 100. That means your body absorbs all the nitrogen. nitrogen is essential for the production of protein in your body. my Whey protein is pure whey protein concentrate and contains 18 different naturally occurring amino acids.
Natural Sport My Whey protein uses only highly biologically active Ultrafiltered Whey Protein and two sources of soluble fiber. Nothing else has been added!
Enhanced Support
Arabinogalactan (AG) is a soluble fiber derived from the Western Larch tree, which has been studied for its potential to help support digestion and immune system activity. AG may also function as an aid to friendly pro-biotic bacteria growth, through its effect on pH in the colon. The addition of soluble fibers to My Whey protein make it a great product for a healthy lifestyle.
Fructooligosaccharides (FOS)
How can FOS increase t he absorption of nutrients? FOS acts as a pre-biotic nutrient to bifidobacteria and lactobacillus, located in the large intestine. The "good bacteria" help maintain and stabilize intestinal flora. Studies indicate that FOS may support digestive enzymes in the digestive tract, leading to better absorption of nutrients.
Whey the Difference!
High-Quality Whey Protein concentrate (Biologically active)

Instantized Powder Mixes Easily

Mix with Favorite Fruit or Juice

Two Sources of Soluble Fiber

No added Ingredients

Low in Lactose.
Free Of
Artificial sweeteners, colors or flavors.
Disclaimer
These statements have not been evaluated by the FDA. These products are not intended to diagnose, treat, cure, or prevent any disease.