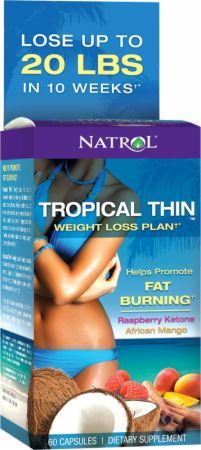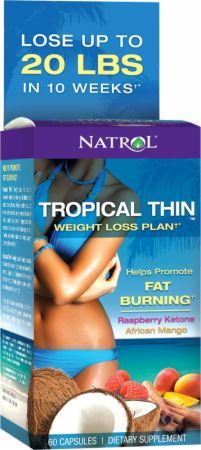 How does Tropical Thin work?
Natrol Tropical Thin Weight Loss Plan is an innovative solution to the age old dilemma of supporting stubborn weight loss. While a healthy reduced calorie diet and exercise regimen is the key to lasting weight loss, powerful ingredients that help promote calorie- and fat-burning, thyroid function, and water balance can help support your weight loss efforts.*
Promotes Fat Burning with the benefits of such ingredients as Green Tea extract, Capsaicin, Raspberry Ketones and African Mango.*
Frequently Asked Questions
Q: What is in the Tropical Super Foods blend?
A: Cinnamon extract, Coconut Water Extract, Kona Red™ Coffee extract, and Lychee extract.
Q: Should I take it with a meal?
A: Yes, we recommend taking Tropical Thin with a meal.