Warning: This product is not currently available at any store.
Click the button above and PricePlow will email you with updates from Natrol.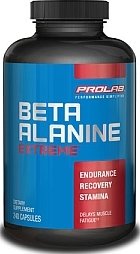 Natrol Prolab Beta Alanine Extreme
PROLAB Beta Alanine Extreme is a dynamic blend of CarnoSyn beta alanine and the amino acid L-Histidine designed to delay muscle fatigue and help extend high intensity training sessions. Beta alanine floods the muscles with the specialized amino acid carnosine to work as a buffer against lactic acid buildup. Carnosine is an amino acid found in Type II or "fast twitch" muscle fibers - the ones that produce explosive power. Buffering muscle acidity can help allow you to train at a higher intensity for a longer period of time before fatigue sets in and may yield a few more growth-stimulating reps. PROLAB Beta Alanine Extreme also supports prolonged stamina and can help reduce muscle soreness both during and after training allowing for more efficient recovery time between sets and between workouts.†* You do your part. We'll do ours.