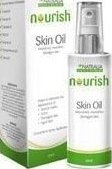 Natralia Skin Nourishing Oil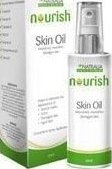 Natralia Skin Nourishing Oil
Natralia Skin Nourishing Oil Description
Daily Skincare Which Helps Minimize The Appearance of:
Stretch marks
Scars
Dehydrated skin
Uneven skin tone
Aging skin
Convenient spray applicator
Natural Alternative
Regular daily use of Natralia Nourish Skin Oil enhances the skin's natural radiance. It is also ideal as an after sun moisturizer.
Scars
The appearance of both new and old scars can be minimized by regular use of Natralia Nourish Skin Oil. Our synergistic blend of unique ingredients helps revitalize skin.
Stretch Marks
Rapid changes in body size causes skin to stretch which may result in stretch marks. Common causes of changes in body size are pregnancy, puberty, weight gain and weight loss. Natralia Nourish Skin Oil helps improve the appearance of existing stretch marks. It also helps reduce the appearance of new stretch marks whilst undergoing a change in body size. Massage Natralia Nourish Skin Oil into the abdomen, hips, thighs, breasts and arms twice daily to achieve maximum effect.
Uneven Skin Tone
Natralia Nourish Skin Oil helps reduce & prevent the appearance of age spots and blemishes and normalizes skin tone with regular use on dehydrated skin by restoring moisture balance to the skin. Natralia Nourish Skin Oil helps provide long lasting protection against the harsh effects of the environment which commonly dry out the skin.
Natralia Nourish Skin Oil helps restore moisture balance and promote elasticity in aging skin. Regular use can soften fine lines and wrinkles.
Massage
The unique spray applicator with atomiser makes it easy to apply Natralia Nourish Skin Oil evenly across the skin facilitating quicker absorption. Rub hands together to warm them up and then gently massage the oil into the affected area using slow, circular motions. Apply twice, daily. A small amount of Natralia Nourish Skin Oil may also be added to warm bath water.
Safety during pregnancy and Breast Feeding
Using natural ingredients, this formula is hypoallergenic. Natralia Nourish Skin Oil does not contain Vitamin A or its derivatives, so it is safer to use during pregnancy.
Directions
Suggested Use: Massage into affected area twice daily using slow gentle circular motions or add a small amount to bath water.
Free Of Vitamin A and petroleum.