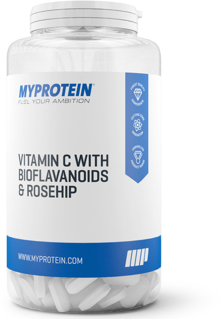 Myprotein Vitamin C with Bioflavonoids & Rosehip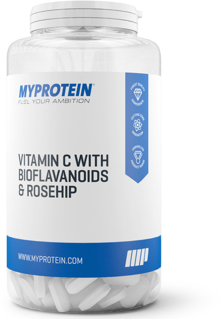 Myprotein Vitamin C with Bioflavonoids & Rosehip
What is Vitamin C with Riboflavin and Rosehip
Vitamin C is an essential water-soluble vitamin providing a wide range of functions in the human body. Bioflavonoids can act to enhance the action of Vitamin C and for this reason Myprotein have combined these vitamins in one daily capsule*. Our high strength (1000mg) tablets are ideal for anyone wanting to supplement with Vitamin C.
Benefits of Vitamin C with Riboflavin and Rosehip
One of vitamin C's most important functions is acting as an antioxidant, protecting LDL cholesterol from oxidative damage*. Vitamin C has lots of other additional functions whereby it supports the immune system and is also required to make collagen, a substance that can strengthen many parts of the body, such as muscles and blood vessels*.
Riboflavin is a vitamin B complex that can enhance the production and release of energy, reducing tiredness and fatigue*. When vitamin C, riboflavin and Rosehip are combined they can act synergistically to support your skin, immune system and overall health and well being*.
Who is Vitamin C with Riboflavin and Rosehip Suitable for
Vitamin C with Riboflavin and Rosehip is suitable for all individuals who want to have a healthy balanced diet and an optimum nutritional status. When we exercise vitamins, minerals and salts can often be lost, in order to replenish the body's nutrient stores supplementation can become a dietary essential*.
How to take Vitamin C with Riboflavin and Rosehip
Up to three tablets can be taken a day, however for the normal recommended intake just one tablet is required to be taken daily.
*These statements have not been evaluated by the Food and Drug Administration. This product is not intended to diagnose, treat, cure or prevent any disease.
Please note that the labelling on this product is provided in English as a minimum. French, Italian, German, Spanish, Danish, Swedish and Finnish may also be present on a product by product basis.