Quick Links to Our Prices
How does this work and how do stores get listed? See our disclosure below to learn more. Price History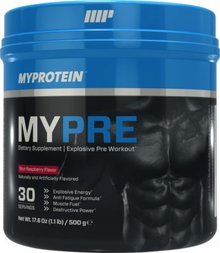 What is MYPRE?
MYPRE is Myprotein's premium pre workout formula which uses the latest cutting-edge scientific research to deliver what we believe to be the strongest and most effective pre workout formula on the market.
What are the Benefits of MYPRE on Performance?
MYPRE combines a number of key ingredients based on the latest scientific research to help optimise your training capacity, increase energy and focus, and enhance overall performance. Combining these ingredients together in one great tasting pre workout formula, Myprotein consider this to be the greatest pre workout supplement to support your goals and get you through those intense training sessions.*
MYPRE Provides (PER 2 SCOOPS):
Beta Alanine (3g).
The build-up of acidity in the muscle can have a huge impact on exercise capacity. This is due to the accumulation of hydrogen ions (H+) which reduces muscle PH and as a result, interferes with muscle contractile and metabolic processes. MYPRE delivers efficacious dosages of Beta Alanine which will increase muscle carnosine concentration to neutralise the working muscles, reduce fatigue and in turn increase exercise capacity.*
Creatine (4g).
To date, there is a plethora of evidence to suggest that creatine supplementation is associated with improved strength and power - given the role of PCr hydrolysis in regenerating ATP during the initial seconds of supra-maximal activity. MYPRE provides a unique blend of four different types of creatine which includes; Creatine HCl, Creatine Ethyl Ester HCl, Creatine Monohydrate, and a 99.9% pure form of Creatine Monohydrate. These all work synergistically, increasing muscle Phosphocreatine (PCr) stores to enhance the muscles PCr availability and in turn reduce muscle fatigue. This is particularly important for short bursts of high intensity, explosive exercise which predominantly incorporates Type 2b muscles fibres and uses the PCr system. Creatine is also highly recommended for augmenting training-induced improvements in muscle mass.*
Caffeine (400mg).
There is a host of research to confirm that caffeine can improve endurance capacity, increase energy and improve alertness. Caffeine has also been shown to increase cognitive function and reduce the perception of physical effort during exercise. MYPRE combines a proprietary blend of caffeine and guarana extract (Paullinia Cupana) to provide 400mg of caffeine per 2 scoops. Typically, the benefits of caffeine are noticed when it is consumed in a single dose 30-60 minutes prior to exercise.*
Branch Chain Amino Acids (BCAA's; 4g).
MYPRE provides 4g of Branch Chain Amino Acids (BCAA's) which are important for muscle growth and recovery. Leucine, in particular, is the main amino acid which stimulates muscle protein synthesis (i.e. muscle growth) and reduces muscle protein breakdown. This will help to reduce the amount of protein degradation during your training helping to maximize your gains. There is also an additional 800mg of L-Leucine added to MYPRE.*
Nitric Oxide (NO) Production Ingredients.
MYPRE combines a unique blend of L-Citrulline Malate (3g) and L-Arginine (1g) which have been shown to increase muscular energy. Citrulline Malate is readily converted to arginine to increase NO levels in the body. NO is scientifically proven to increase blood flow and in turn enhance the delivery of nutrients and oxygen to the working muscles. MYPRE contains Betaine which has also been shown to increase NO levels regulating cellular fluid volume to improve muscle strength, power and endurance.*
Vitamins and Minerals.
MYPRE combines a range of vitamins and minerals which support the demands of an active lifestyle and training programme. MYPRE provides a vitamin B complex which will help with energy production as well as delivering a blend of electrolytes which include potassium, sodium and calcium. With the addition of water consumption, these added electrolytes can maintain fluid balance and hydration status helping to reach optimal performance.*
Essential Amino Acids (EAA's).
MYPRE also contains a full list of EAA's which are important for muscle growth. These EAA's in addition with the BCAA's will support muscle recovery throughout your training session.*
What flavors is MYPRE available in?
MYPRE is available in 7 fantastic flavors which include; Sour Apple, Lemon and Lime, Watermelon, Raspberry Lemonade, Orange, Grape and Blue Raspberry. Each flavor has been carefully tested to ensure we provide the greatest tasting pre workout formula.*
Who is MYPRE Suitable for?
MYPRE is recommended for those looking to increase their training volume and get the best out of their training sessions. MYPRE incorporates scientifically backed ingredients to help maximise training capacity, energy and optimise physiological performance.*