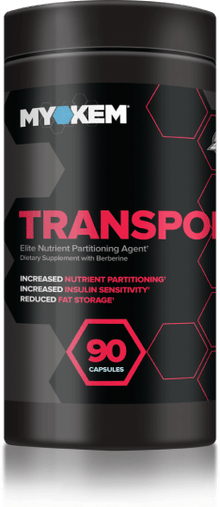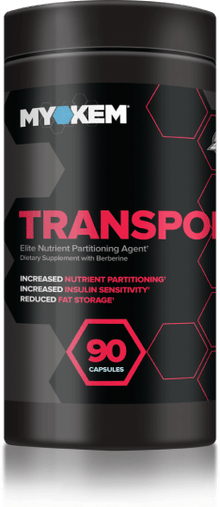 Myokem Transport, 120 capsules
AN ELITE NUTRIENT PARTITIONING AGENT
ADVANCED NUTRIENT PARTITIONING

SUPPORT IMPROVED INSULIN SENSITIVITY
REDUCE FAT STORAGE AND APPETITE
DRIVEN BY PURE, NATURAL BERBERINE
Myokem Transport is a brand-new fat burning supplement that's making waves in the industry as a unique way to deal with weight loss. The company claims it's an advanced formula that deals directly with parameters like blood sugar and insulin.
I've never seen a product like Myokem Transport, so I was very interested in how it worked. Let's dive in and see if Myokem's new approach works!
What's Inside It?
Transport is advertised a way to increase nutrient partitioning and insulin sensitivity. This is a new style of weight-loss, and I was impressed by the ingredients.
Amur Cork Tree Extract
This ingredients comes from the Amur cork tree and is valued for its high berberine concentration, up to 95%.
Berberine is generally used to treat the effects of diabetes, improving triglyceride and glucose levels in patients. However, this may also slightly benefit weight loss and fat burning ability. [1]
GS4 Plus
GS4 Plus is a special form of the natural extract gymnema sylvestre, standardized to 75% gymnemic acid. This compound is used to inhibit fatty acid absorption, reducing fatty acid levels for maximum fat-burning results. [2]
Cinnamon Bark Extract
Cinnamon bark is widely used for its ability to reduce blood glucose levels, balancing blood sugars for better energy, health, and metabolism. [3]
Indian Gentian
Indian gentian is an interesting ingredient to include in a fat burner. It's a popular anti-inflammatory, reducing swelling and pain. [4]
Some individuals suffer from inflammation that affects their ability to properly digest food, so Indian gentian can help smooth out these weight-loss complications.
Bioperine
Bioperine is a standard in all types of dietary supplements. It's the compound that gives black pepper its signature kick and improves the absorption and efficacy of all other ingredients. [5]
While most fat burners are little more than supplements, Myoken Transport actually uses compounds to improve metabolism and blood sugar levels. That's a new, refreshing approach to weight-loss support.
---
How Much Does It Cost?
The best deal is here with a 120-capsule bottle for $29.95 with free shipping and a money-back guarantee.
That's a surprisingly low price for a brand-new supplement, especially one with a unique approach to weight loss.
---
How Do You Take It?
Given its rather complex, new formula, I'm not surprised that Myoken Transport has slightly complicated dosing instructions:
take 1 capsule 15 minutes before a meal that contains a minimum of 25 g of carbohydrates. You should not exceed more than 3 servings per day.
Of course, there's the standard disclaimer that watching what you eat and exercising will increase effects.
---
Is It Safe?
The lack of caffeine and other stimulants makes Transport very safe. However, it can lower blood sugar levels, which may be detrimental for some persons with diabetes or similar conditions.
---
What's The Verdict?
I'm really excited about Myoken Transport. This new breed of weight-loss supplements looks very promising, with serious research to back it up. I definitely recommend it for users looking an unorthodox method to lose weight.