Warning: This product is not currently available at any store.
Click the button above and PricePlow will email you when the first store has it in stock!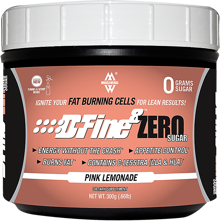 MuscleWerks D-Fine 8 Zero
MuscleWerks D-Fine8 Zero | Now on Sale at
Sugar Free D-Fine8ZERO increases your energy levels while

curbing your appetite and burning excess fat all with No Sugar.

Getting rid of that excess weight is something that can be a challenge to even the most disciplined of athletes. Some areas of stubborn fat can remain among even the most well trained muscle groups and it can be extremely difficult to remove them. One of the problems associated with getting rid of excess fat is doing so safely and in a way that means we still have plenty of energy. Diets can often mean we have little energy to go about our everyday business, let alone working out in the gym. Because excess energy providing foods are converted into fat by the body, it is very difficult to find a solution that helps maintain energy levels and reduce fat at the same time.D-Fine8ZERO contains active ingredients that help to curb your appetite while also offering properties that help you to maintain your energy levels throughout the day. Its affect of curbing your appetite means that you don't have to spend your day feeling hungry because your diet prohibits you from eating. The compound also offers outstanding mood enhancement properties as it helps to avoid irritability due to poor energy levels. B-vitamins, which are known to help metabolism and mood levels, are also present to help make the formula more complete.The natural ingredients mean that you get this additional energy without the crash that is associated with other similar products. D-Fine8ZERO doesn't cause mood swings as some products are known to do, so it won't have any adverse effects on your day to day life.The D-Fine8ZERO compound is more than just a weight loss system that works by curbing your appetite so you eat less. Even when you are on a strict diet it can be difficult to get rid of those stubborn areas of fat. When this is the case more direct action is needed to be able to burn off the fat that exercise and dieting alone cannot achieve.What the D-Fine8ZERO compound does is to use the body's own metabolism to burn down the fat and turn it into energy. Citrus Aurantium is a thermogenics fat burner, as is epigallocatechin gallate which is a natural compound that can be found in green tea. Both are present in D-Fine8ZERO which means that the fat burning furnace in your body is switched on along with the fat oxidization pathways.This burning of the fat is one of the main contributors to increased energy levels despite the appetite control effects of the formula. After all, fat is our body's way of storing energy so there is hardly a better natural energy source available. This helps you to kill two birds with one stone, providing one of the most effective fat loss supplement systems for reducing fat and helping to give better muscle definition.Whether you are looking to get ripped muscles that your work in the gym deserves, or you are just looking to get rid of that stubborn weight that won't go away, Dfine8's fat burning & energy boostingproperties will provide a complete solution for you. Dfine8 is the best fat burning supplement there is in helping you to burn off that fat while supporting a happy and energized disposition at the same time.