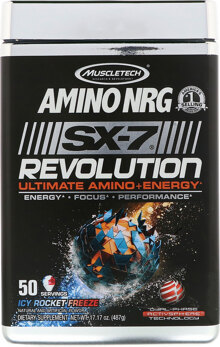 MuscleTech Amino NRG SX-7 Revolution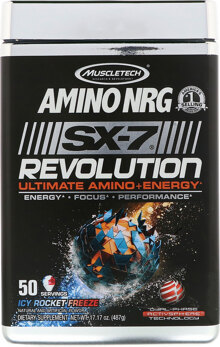 MuscleTech Amino NRG SX-7 Revolution
TECHNOLOGY MEETS EFFICACYWITHOUT COMPROMISE
Amino NRG SX-7 Revolution features advanced, dual-phase ActivSphereTMtechnology and delivers full clinical doses of key ingredients for musclegrowth, strength and performance. This exclusive formula was developed toprovide immediate and long-lasting energy while also supporting musclerecovery and maximum muscle growth and performance!

PERFORMANCE-ENHANCING AMINO-BCAA FORMULA
A potent 8:1:1 ratio of BCAAs, supplying a clinically validated 4g doseof L-leucine from three innovative sources – instantized L-leucine, ActivSphereTMleucine and PepForm leucine peptides. They work synergystically forpowerful anabolic effects. The formula also features a clinical doseof taurine shown to improve performance in endurance athletes.

POWERFUL MUSCLEBUILDING INGREDIENTS
That powerful dose of leucine also works with a scientificallyresearched dose of betaine for increased strength, leanmuscle and enhanced muscle endurance.

INSTANT & LONG-LASTING ENERGY
Delivers a dual-phase combination of instant-release caffeineplus sustained-release caffeine for a powerful boost in energy,focus and intensity.

AMINO NRGTM SX-7 REVOLUTION ULTIMATE AMINO+ENERGY
The most advanced muscle building BCAA formula, featuringclinically dosed betaine, powerful cell volumizers anddual-phase caffeine for enhanced energy, uncompromisingpower and more explosive workouts!