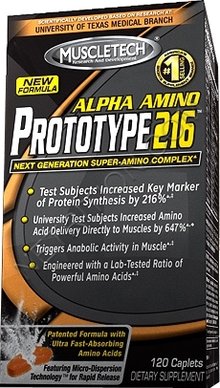 MuscleTech Alpha Amino Prototype 216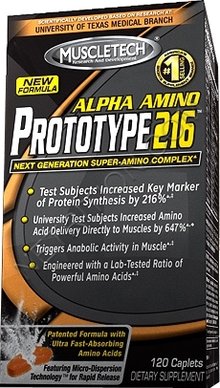 MuscleTech Alpha Amino Prototype 216
The World's Most Advanced Next-Generation Super-Amino Muscle Growth Accelerant
Alpha Amino Prototype 216 is the result of a relentless quest by a team of innovative researchers to develop the fastest and most powerful methods of building extreme levels of rock-hard muscle. Fusing four state-of-the-art complexes and the advanced power of Nano-Diffuse technology, Alpha Amino Prototype 216 is the most powerful, max-dosed, precision-engineered amino acid formula that MuscleTech researchers have ever conceived.

Key Amino Acid Matrix Proven to Trigger Extreme Growth

Alpha Amino Prototype 216 is engineered with a lab-proven dosage of amino acids, in the precise amounts designed to increase free intracellular amino-acid levels in direct proportion to their physiological requirements for rapid protein synthesis. In a third-party clinical study conducted at the Medical Branch of the University of Texas, the amino acid complex found in Alpha Amino Prototype 216 caused a shocking 216% increase in muscle uptake in what clinical research indicates is a key marker of protein synthesis (phenylalanine), which of course is muscle gorowth occurring at the cellular level. The researchers employed a very precise method of testing done by drawing and analyzing blood from human subjects 60 minutes following intese exercise - it doesn't get any better than that! Furthermore, elevated phenylalanine uptake was also observed by researchers from blood samples taken at the subsequent blood drawing an hour later, indicating accelerated muscle growth was still occuring at the cellular level.

Also Featuring Precision Ratio Branched Chain Amino Acids

Alpha Amino Prototype 216 is powered by an exact ratio of an advanced branched chain amino acid matrix that immediately triggers powerful anabolic effects while blunting the destructive catabolic effects of intense training. Alpha Amino Prototyoe 216 is also engineered to mirror the fractions found in human muscle and plays a crucial role in muscle tissue synthesis and repair.