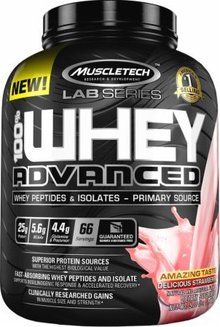 MuscleTech 100% Whey Advanced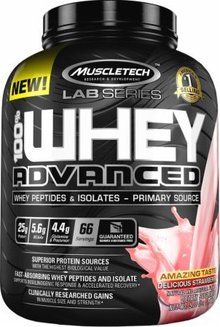 MuscleTech 100% Whey Advanced
MuscleTech 100% Whey Advanced News
100% WHEY ADVANCED
Superior protein sources with the highest biological value

Fast-absorbing whey peptides and isolate supports insulinogenic response & accelerated recovery

Clinically researched gains in muscle size & strength­
FROM LAB BENCH TO GYM BENCH
WHAT MAKES LAB SERIES SUPERIOR?
Only the highest quality ingredients
Guaranteed pure protein
Fully disclosed formulas
Clinically dosed, lab-tested key ingredients
MuscleTech researchers have taken an unparalleled leap in their commitment to supplement science by partnering with the world-renowned University of Toronto – an institutional leader with a long history of innovation and research – to create the MuscleTech Metabolism and Sports Science Lab.
As part of the $58-million, state-of-the-art Goldring Centre for High Performance Sport at the University of Toronto, the new lab reaffirms our devotion to developing ingredients with extreme efficacy validated by unbiased scientific research. The prestigious University of Toronto was recently ranked in the Top 20 for overall performance as stated in the Times Higher Education World University Rankings 2013–2014 report. The MuscleTech Metabolism and Sports Science Lab features novel technologies and equipment to carry out gold-standard research on new, emerging ingredients.
As the first partnership of its kind, it is at the forefront of muscle physiology, sports performance and nutritional biochemistry. MuscleTech researchers' passion and vision to continuously research, develop and patent the most effective sports supplements in the world has led to the MuscleTech Lab Series – a complete line of advanced products that promises extreme efficacy, with key ingredients validated by scientific research. MuscleTech Lab Series is the brand you can trust for superior science and superior results.
ENJOY ALL THE BENEFITS OF LAB SERIES 100% WHEY ADVANCED
MuscleTech Lab Series 100% Whey Advanced is engineered by some of the world's top sports nutrition researchers to utilize whey peptides and isolates for superior absorption, digestibility, easier mixing and high levels of essential branched chain amino acids (BCAAs) – the building blocks of muscle. Utilizing the richest natural source of BCAAs available, MuscleTech Lab Series 100% Whey Advanced delivers 5.6g per scoop, ensuring fast activation of the mTOR signaling pathway and protein synthesis – allowing you to jumpstart the muscle growth process quickly and shift your body into a 100% anabolic state!
Whey peptides are powerful shorter chains of amino acids derived from much longer whole whey protein molecules. These isolated whey peptides are rapidly digested and absorbed. What's more, whey peptides have one of the highest biological values (BV) of any protein source, a value given to protein sources to measure how well they are absorbed and used by the body.
APPROXIMATE BCAA AND LEUCINE CONTENT OF PROTEIN SOURCES
BCAA
Leucine
Whey protein isolate
22%
9%
Casein
21%
8%
Milk protein
20%
8%
Egg protein
20%
7%
Soy protein isolate
17%
8%
Wheat protein
15%
7%
25g
Protein
5.6g
BCAAs
4.4g
Glutamine &
Precursor
26g
Servings
PROTEIN BACKED BY SCIENTIFIC RESEARCH
MuscleTech researchers reviewed numerous clinical trials on whey peptides and the science shows that whey peptides can promote rapid recovery from exercise and even support an insulinogenic for improved nutrient delivery. This means you are getting an ultra-pure, rapidly absorbed and quickly digested protein that allows you to recover faster, build more lean muscle mass and get better results from your training sessions!
Check out the research here: Power et al., 2009. Amino Acids. 37:333–339.
FULLY DISCLOSED FORMULA WITH GUARANTEED PROTEIN CONTENT
Each bottle of MuscleTech Lab Series 100% Whey Advanced is fully disclosed with no proprietary blends, or hidden or underdosed ingredients. In addition, Team MuscleTech guarantees you are getting the exact amount of real protein that is displayed on the labels – each and every scoop contains the full amount of protein stated on the label and is 100% real protein!
QUALITY YOU CAN TRUST
To ensure a high standard of quality and purity, each batch of MuscleTech Lab Series 100% Whey Advanced undergoes strict quality control and is third-party tested and verified to ensure that each bottle meets the highest standards of purity, quality and consistency.
GUARANTEED BANNED SUBSTANCE FREE
We understand that, as an athlete, one of your key concerns is knowing exactly what you put in your body. That's why Team MuscleTech is committed to providing the highest quality scientifically formulated products that are free of banned substances, and that's why each batch of MuscleTech Lab Series 100% Whey Advanced is guaranteed to be banned substance free, so you can rest assured you're taking only the best to be the best.
BEST-IN-CLASS TASTE
MuscleTech Lab Series researchers worked closely with industry-leading flavoring experts to constantly ensure that each high-quality serving of MuscleTech Lab Series 100% Whey Advanced delivers all the mouthwatering, decadent taste of your favorite milkshake while still delivering best-in-class macros.