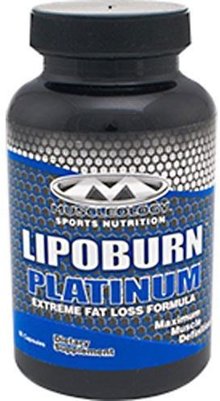 Muscleology Lipoburn Platinum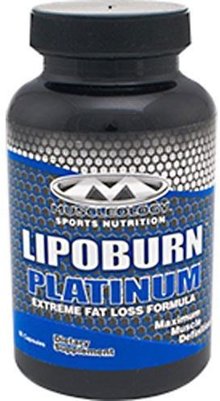 Muscleology Lipoburn Platinum
SMOOTH SUSTAINED ENERGY
DESIGNED FOR JITTER FREE ENERGY
BECOME A HIGH INTENSITY MACHINE
EXTREME ALL-NATURAL FORMULA
MANUFACTURED IN THE USA
A COMPREHENSIVE FORMULA
Simplify the weight loss process. If you're not utilizing the power of all-natural fat burning extracts, you're missing out! Leading scientists have uncovered 100% natural extracts such as bitter orange,[1] cayenne pepper,[2] PEA,[3] and salicylic acid[4] that can help enhance the weight loss process.
Muscleology Lipoburn Platinum is designed as a nutritionally advanced supplement to put you back in the driver seat when it comes to your weight loss journey. Lipoburn Platinum does not contain Yohimbe or Ephedra, so it will not cause nervousness, anxiety, or jitters.
To support sustained weight loss, it is critical to burn more calories than you consume. Lipoburn Platinum truly stands out in the weight loss market, designed specifically with health-minded people just like you in mind. Everything you need all in one convenient capsule!
You know you're ready for a change, so stop holding back. Start feeling good in your body again and regain your confidence. Try Lipoburn Platinum today!
References [+]
References [-]
[1] Preuss HG, et al. Citrus Aurantium as a Thermogenic, Weight-Reduction Replacement for Ephedra: An Overview. Journal of Medicine. 33:1-4. (2002): 247-264.
[2] Osaka T, et al. Temperature- and Capsaicin-Sensitive Nerve Fibers in Brown Adipose Tissue Attenuate Thermogenesis in the Rat. European Journal of Physiology. 437:1. (1998): 36-42.
[3] McKean CM. The Effects of High Phenylalanine Concentrations on Serotonin and Catecholamine Metabolism in the Human Brain. Brain Research. 47:2. (1972): 469-476.
[4] Bratusch-Marrain PR, et al. Acetyl-Salicylic Acid Impairs Insulin-Mediated Glucose Utilization and Reduces Insulin Clearance in Healthy and Non-Insulin-Dependent Diabetic Man. Diabetologia. 28:9. (1985): 671-676.
* RESULTS MAY VARY