Quick Links to Best Prices Price History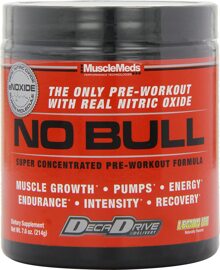 SUPER CONCENTRATED PRE-WORKOUT FORMULA
NO BULL - THIS REVOLUTIONARY PRE-WORKOUT FORMULA WILL TAKE YOUR TRAINING TO A NEW LEVEL OF INTENSITY, EXTREME POWER AND IMMENSE MUSCLE PUMPS!
NO BULL is unlike any other pre-workout formula in the history of sports supplementation. Never before has a pre-workout supplement been able to deliver REAL NITRIC OXIDE in combination with potent ergogenic and anabolic compounds to take your workouts to a new level of excellence. NO BULL is scientifically formulated using eNOXIDE, a patented real nitric oxide super-molecule. It's important not to confuse eNOXIDE with the nitric oxide precursors used in other pre-workout formulas such as AAKG, Arginine or Citrulline. These are mere precursors - they aren't real nitric oxide! You've never experienced a full blown "real nitric oxide muscle pump" until you've tried the incredible power of eNOXIDE in NO BULL.*
NO BULL doesn't stop at the pump! NO BULL is synergistically formulated to trigger a highly anabolic state of extreme power, intensity, energy and endurance to fuel your workouts. The unique mind-muscle synergy created by NO BULL allows you to train harder, heavier and longer so you can maximize muscle growth and performance. This powerful pre-workout amplifier's powerful actives are supercharged with MuscleMeds exclusive DecaDrive Delivery to enhance bioavailability for maximum potency.
NO BULL is the no-nonsense hardcore pre-workout formula for athletes who demand the best of themselves and their supplements.
THE ONLY PRE-WORKOUT WITH REAL NITRIC OXIDE
FORMULATED TO MAXIMIZE
MUSCLE GROWTH
PUMPS
ENERGY
ENDURANCE
INTENSITY
RECOVERY