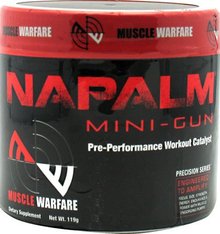 Muscle Warfare Napalm Mini-Gun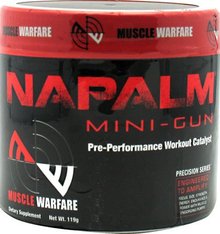 Muscle Warfare Napalm Mini-Gun
Pre-Performance Workout Catalyst
Incomparable Training Intensity*
Massive Pumps & Vascularity*
Positive Mood & Energy*
Very Potent, Long Lasting Effects*
Engineered to Amplify: Focus, Size, Strength, Energy, Enduranec & Power with Muscle Engorging Pumps.*
Don't Fall for it, Micro Workouts are for Wimps...
TIME TO GET MASSIVE
The New Napalm Mini-Gun Precision Series is the absolute most potent DMAA free pre-workout formula ever made! This version is more specifically designed to be economical but still provide the same stimulant punch as the larger sized version. Napalm Mini-Gun was specially designed with a precise ratio of amino acids and amino acid based metabolites, which synergistically feed off each other to unlock "never before experienced" stimulant power! You are just going to have to try it for yourself to believe it!*
The "Secret" to this Technology…
It all starts with the scientific research of each of the amino based ingredients, then ends with their exact dosing. Sounds simple… but we spent months and months beta testing this formula… and finally came up with a version, so potent, that the vast majority of users prefer it to the old one! That's a tall order… but it's the plain truth. So, even though some other companies may try to knock off our "precise ratio" concept, the effects of our new Napalm Mini-Gun formula cannot be duplicated. All other pre-workout product results are simply "micro" in comparison.*
So, what can you expect… is an energy experience just as, if not more potent than the previous DMAA formula.*
In fact, the new Napalm Mini-Gun produces more of an intense, focused mood lift rather than the angry buzz attained from our previous DMAA version. Simply put, the new Mini-Gun has an even cleaner feeling. So, if you have to work or go "out on the town" after training, you'll feel incredible to do it! Best of all, the pumps are WAY better, seriously engorging, and there has been no crash reported from our any of our beta testers either!*
In fact, once they knew what to expect before taking the product, virtually all of them preferred THE NEW VERSION to our old one.
It also utilizes more of an exact measuring protocol (instead of one scoop fits all), which targets your specific bodyweight, so you'll be able to get the perfectly dosed workout every time! Oh yeah, It's loaded with a very pure, 1:1 ratio of Arginine to Citrulline for maximum (NO) nitric oxide PUMP amplification, with Betaine. It simply includes everything you need to radically boost performance, and nothing that you dont!*
Napalm Mini-Gun Precision Series simply has no equal and your results will completely amaze you!
So don't wait… be the first to try it and tell all your friends about it… or better yet, when they see your results in the gym, they'll be asking you, no… begging you to try a serving! Be sure to get your bottle of THE NEW NAPALM Mini-Gun today!