Quick Links to Our Prices
How does this work and how do stores get listed? See our disclosure below to learn more. Price History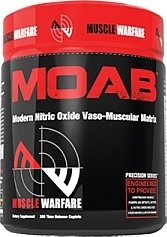 Modern Nitric-Oxide Vaso-Muscular Matrix
Continuous & Intense Muscle Engorging Pumps*
Muscle Repair & Recovery Booster*
Endurance Enhancement Via Multiple Pathways*
Full Spectrum B-Complex Vitamin Blend*
Multi-Phase DNA/RNA Encoding Matrix *
As science advances, the products that lead must continue to evolve...
Introducing the newly modernized MOAB, the highly sophisticated nitric oxide vaso-muscular matrix that produces continual and dramatic muscle pump, size, and endurance! With its potent anabolic support and many other ergogenic benefits, this isn't your ordinary overhyped N.O. product that promises explosive vascularity, but doesn't deliver… MOAB, just as its acronym implies, is a master weapon for muscle pump enhancing devastation. Hence the name, Mother Of All Bombs! So, what is so different about this formula than other N.O. products? Well, it started with recently discovered elite new science and 'blood flow regulating' technologies that are so profound, we determined that we must integrate them into the existing, already incredibly potent formula! Even though it costs us more to make now, we had no choice but to be fair to our customers by making these upgrades to produce the most effect foundation NO product ever available. Once you try this new formula, you will see why! The pumps from the modernized MOAB are simply by far the most intense we've seen from any N.O. product, ever!*
Multi-Pathway Induced Vaso-Muscular Expansion
Instantaneous Vascularity
Most NO products take time to build up in the system, with the modern version of MOAB, the muscle engorging effects are INSTANTANEOUS!*
The first thing you might notice with the new MOAB is the speed at which the completely insane pumps occur! Most NO products, and even the first version of MOAB, didn't hit with the speed and intensity of this new version! The new MOAB truly earns its explosive name and then some. When you take your first dose, and then go lifting under its influence, you will immediately gain a new understanding. Plus, your admiration for the mirror will grow as you stare endlessly at your guns, new size, garden hose like veins and extreme vascularity!*
Cumulative, Continuous Results
It gets even better too. The longer you take MOAB the bigger and better the PUMPS get! The new combination of ingredients synergize to provide incomparable 'continuous' results!*
The effects of MOAB, although fast acting, are also cumulative! So after you take it regularly as directed for a few weeks, your pumps will become larger and more perpetual! Meaning they stay with you all the time! So, whether you are in the gym training, or at the beach hanging, your intense pumps and extreme vascularity will also be there for everyone to notice! Here is how it works. The vascularity enhancing ingredients we use in MOAB target a triple-threat combination of Nitric Oxide, Nitrate and Nitrite, which specifically help push incredible blood flow. It does this by relaxing the smooth muscle cell walls of your vascular system. As more nutrients and oxygen reach your muscles, your workouts and recovery improve. Also, with our time released delivery system, your vascular system is provided a steady stream of these ingredients, which helps give you added blood flow 'continuously' and provide an 'always pumped' feeling!*
Enhanced Recovery Potential
MOAB is such a heavily dosed N.O. product, with so many unique & potent MUSCLE BUILDING pathways, your PUMPS will be almost painful, and recovery in a new dimension!*
MOAB is loaded with a specially designed combo of the latest pump enhancing aminos that drive insulin, nitric oxide, nitrite, reduce lactate and flush ammonia. This amino system is then supercharged with our unique and highly potent nitrate pump induction system, fueled specifically by Betanadin (5-0-beta-glucoside). This alone will take your vascularity to a new level! However, it then contains a full spectrum of B-Vitamins to enhance energy levels and red blood cell production, which further help swell veins with added blood supply. To further this effort in maximizing your oxygen carrying cells, we fortify MOAB with Iron and a targeted EPO Loading Agent that supports erythropoietin production. This effect is further enhanced by our unique Cellur Energy drivers to maximize mitochondrial energy output. Finally, a unique Multi-Phase Myobolic encoding matrix, loaded with pro-anabolic polyphenols provides your muscles with dramatically enhanced recovery potential.*
The Best PUMPS of Your Life
With all of this incredible power LOADED into one product, you'll have no choice but to experience the best PUMPS of your life!*
Now that you have learned about the most explosive conventional pump enhancing weapon in the Muscle Warfare arsenal (MOAB), there's only one thing left for you to do. Go get a bottle today and start getting the biggest, freakiest pumps of your life! MOAB stacks well with Napalm, Nuke and any other Muscle Warfare product. Don't be the last one of your friends to try it and miss out on all of the incredible gains! Try MOAB and experience a completely new level of vaso-muscular enhancement and head turning, ULTRA-FREAKY muscle PUMPS!*