Quick Links to Best Prices Price History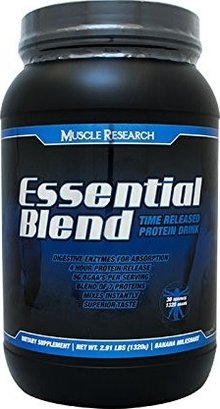 Muscle Research Essential Blend Protein
Proteins are digested at different rates. By combining different proteins you can enjoy an immediate, medium, and extended source of nutrition. Essential Blend protein includes an ideal ratio of complex carbohydrates, 5 grams of BCAA's, and Digestive Enzymes for superior absorption with every serving.
Immediate Release- Whey Protein Isolate and Whey Concentrate and Glutamine Peptides are absorbed within 30 minutes after you consume them, providing your body an immediate boost of protein essential for recovery.
Medium Release- Egg Protein and Milk Protein Isolate fuels your body with amino acids for 1 ½ hours. Egg is considered a perfect protein because it has the highest protein efficiency ratio.
Extended Release- Micellar Casein and Calcium Caseinate take much longer to digest. You get a full 4 hour release of amino acids. This makes these proteins ideal for appetite control.
Essential Blend protein has been formulated to give you everything you could possibly need to maximize your athletic potential. We have also included Aminogen, a blend of digestive enzymes which help break down ingested protein into individual amino acids, to ensure that your body breaks down these proteins into individual amino acids for a more efficient absorption process. If you're not getting the gains you were expecting, if you just can't get over your most recent plateau, or if you just want to ensure you are providing your body with all of the nutrients needed to maximize your potential, YOU NEED ESSENTIAL BLEND!
Increased protein absorption can help your overall performance in many ways. The most well-known aspect is that it increases lean muscle mass and nitrogen retention rate. Nitrogen is an essential component of all amino acids and the building blocks of protein.