Quick Links to Best Prices Price History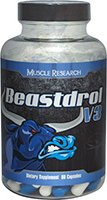 Muscle Research Beastdrol V3
Get Ready For Beast-Like Size & Strength!
• Increases Lean Muscle and Strength
• Decreases Excess Water Retention
• Promotes Muscle Hardness
• Stimulates Protein Synthesis
• Promotes Improved Recovery
After a long hard fight, and two recent supplement bans, prohormones are gone for good.They thought they killed it but guess what – Beastdrol is back! That's right – Beastdrol v3 by Muscle Research is making a comeback!What a comeback it is - get ready to pack on some serious mass without excess water retention – get the benefits without the drawbacks!

So how does Beastdrol v3 work?

By converting 1-DHEA into 1-AD – the very first prohormone to hit the market and known for dramatic gains in muscle and strength! 1-AD was first in more ways than one, it has the dubious distinction of being among the first prohormones to get banned over a decade ago.
What else is in Beastdrol V3?
Arimistane – This naturally-occurring ingredient is a metabolite of DHEA and has the reputation as an effective aromatase inhibitor. This is important because aromatase converts excess testosterone into estrogen, arimistane works by attaching itself to the aromatase enzyme which blocks it from causing this conversion. This keeps estrogen levels low and promotes higher testosterone levels. Additionally, it lowers cortisol, the destructive catabolic hormone, which is secreted in times of high stress, including physical stress such as working out.

Acacetin – This is a natural flavone that is found in the Damiana plant. The newest research has suggested that acacetin has anti-aromatase and anti-estrogen properties.

Fenugreek – This is an herb that can be found in southern Europe and Asia which is commonly used to promote increases in testosterone production.

The combination of ingredients work together to create a powerful formula that will promote significant gains in muscle and strength as well as block the negative effects of excess estrogen!
Build some serious size with Beastdrol v3 by Muscle Research! Pick up a bottle today!

Supplement Facts
Serving Size: 1 Capsule
Servings Per Container: 90

Amount Per Serving

Androsta-3,5-diene-7,17-dione - 50 mg
Fenugreek Extract - 150 mg
Acacetin (4-methoxy-5,7-dihydroxy flavone) - 25 mg
1-DHEA (Androsterone or 3a-hydroxy-5a-androstan-17-one) - 100 mg
Medium Chain Triglycerides - 300 mg

Other Ingredients:
Maltodextrin, Gelatin, Silica, Magnesium Stearate, FD&C Red #3, Titanium Dioxide, FD&C Yellow, FD&C Red #40, RD&C Blue #1

Directions
To use:  Take 1 capsule with each meal, for a total of 3 capsules per day. Use on for 8 weeks.

For best results, use a cycle support product such as Protex by Vital Labs and a testosterone booster/estrogen blocker such as Dermacine by BPS. Follow use with a 30 day PCT such as PCT Post Cycle 3x by Vital Labs.

Warnings
Discuss with your physician before taking if you have a medical condition or are taking any prescription medications. Stop use and discuss with your physician if any negative effects occur. Do not exceed suggested dose. Do not take if pregnant or lactating. Must be 18 years old to use this product.  Keep away from children. Do not use if seal has been tampered with. Store in a cool, dry place.