Warning: This product is not currently available at any store.
Click the button above and PricePlow will email you when the first store has it in stock!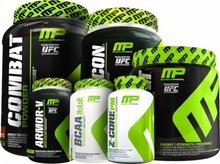 Muscle Pharm Get Swole Stack
Assault - 30 Servings
Pre-Workout Energizer
Assault provides bodybuilders, powerlifters, fighters and strength athletes with a potent pre- and intra- workout powerhouse that fuels limit-shattering levels of performance that are sure to bust through any plateau. Consume Assault prior to training, or sip on it during the first part of your workout. From your first dose onward, feel a performance-boosting power surge that will power your entire workout, from stretching through to your final set.*
MusclePharm Assault is the most researched pre-workout on the market. Developed at the state art MusclePharm Sports Science Center as athletes ourselves, we wanted it to do more than pack serious muscle-building power. We set the safety bar sky-high so other athletes know that they're feeding their bodies the best. We are proud to say that Assault is the only Pre-workout product on the market that has certifications from both NSF and Informed Choice as Banned Substance Free.
Combat Powder
Advanced Protein Superfood
COMBAT is MusclePharm's technologically advanced Protein Superfood. Athletes and Bodybuilders have long known that high-quality protein is the key to building and maintaining lean muscle, while supporting a healthy body composition and fueling fat loss. Protein is the most-important macronutrient for muscle growth, mass and power. High quality protein supports muscle growth and recovery and the integrity and health of all body tissues. Active bodies require MORE high quality protein for optimal performance - COMBAT was designed to answer that need.
COMBAT delivers 25 grams of the highest quality PROTEIN BLEND, in a great tasting, easily mixing shake. COMBAT was formulated specifically for athletes and active individuals to support their bodies' increased protein demands.
Recon
Post-Workout Recovery
RECON is a unique, high-performance post-workout refuel, replenish, rebuilding formula. RECON was designed to maximize the most important phase of the athlete's total training program – the post-workout phase, what those in our game call the "anabolic window". RECON was designed to provide hard training athletes with everything necessary to nourish recovery and growth from all angles. Every facet of reconstruction nutrition is accounted for in this, the most comprehensive recovery formulation. There is nothing like Muscle Pharm's RECON.*
Armor-V
Comprehensive Multi-Vitamin
Armor-V is your daily partner. Each component of this meticulous formulation was assembled with consideration for the high-intensity demands of the hard-training athlete. Specifically designed to be the foundation of your advanced nutritional program, Armor-V lays the infrastructure of your daily supplement regimen, brick by brick.
Armor-V is a comprehensive blend of organics, herbals and natural ingredients, specifically formulated to feed your body with everything nature intended - and then some. Armor-V is loaded with pure vegetable and fruit derivatives, rich in antioxidants and system optimizers - to help you train hard, run clean, recover faster and improve performance every minute of your life. This is truly the Athlete's Vitamin!*
Z-Core PM
Anabolic Sleep Enhancer
MusclePharm Z-Core PM: supports muscle growth and recovery, promotes deeper and more efficient sleep to maximize healing, tissue repair, anabolic hormone production and testosterone levels. It delivers the benefits of precise dosages and ZMA ingredient ratios, and adds the synergistic effects of clinically-proven Fenugreek to support the balance of cholesterol levels as well as increase of healthy libido function in women and men.*
Athletes push their bodies harder and need supplement sources that can keep up with the pace. They also need genuine, deep sleep to truly repair and nourish tissue. Z-Core PM delivers on both of these. Some studies have also shown the ZMA intake can lead to increases in free testosterone levels, and others believe the zinc and magnesium in ZMA get incorporated into the body more effectively than in other forms.*
BCAA 3:1:2
BCAA Muscle Nourishment
BCAA helps you: receive ideal amounts of BCAAs Leucine, Isoleucine and Valine from this patented ratio of 3:1:2, promote muscle development and maintenance, increase lean body mass and spur weight loss. BCAAs are part of the group of essential amino acids a body needs. Our patented 3:1:2 ratio is designed to release the ideal amounts of each amino acid both before and after a workout. This prevents muscle breakdown and leads to gains in body mass without losing weight.*
Many athletes believe in the power of increased BCAA intake for developing lean muscle mass more effectively. Essential amino acids like BCAAs can't be manufactured by the human body. If a person doesn't take a BCAA supplement, they need to consume proteins and mixes of vegetables to receive them. BCAAs like Leucine, Isoleucine and Valine benefit athletes because they are processed in the muscles instead of the liver. In the muscles, more of the amino acids are used for muscle nourishment, as opposed to fuel for energy.*