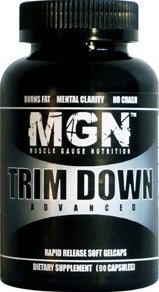 Muscle Gauge Nutrition Trim Down Advanced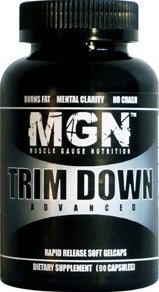 Muscle Gauge Nutrition Trim Down Advanced
Trim Down Advanced is MGN's next generation fat burner with RAPID RELEASE LIQUID CAPS designed to promote fat loss, boost energy, and provide clarity to the central nervous system. Including natural ingredients such as Hoodia Gordonii, L-Carnitine, Green Tea Extract, and White Willow Bark Extract you can be confident that we have used on the safest, yet effective dietary supplements on the market to provide the results you desire.
Trim Down Advanced has focazanthin which BURNS FAT buried deep in your muscle fibers to get you absolutely lean and ripped. Your core body temperature will increase enabling your body to sweat out toxins as you workout. In addition, the Energy Boost Complex of evodiamine, PEA, caffeine, and Yohimbe provides the perfect environment for 7 hours of clean energy that will not give you the jitters, headaches, and ultimate energy crash that other fat burners provide.
CANADA CUSTOMER NOTICE: Supplements containing L-carnitine can NOT be shipped to Canada due to Canadian laws. Customers in other countries need to check with their local laws.