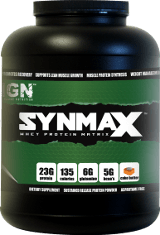 Muscle Gauge Nutrition SYNMAX Protein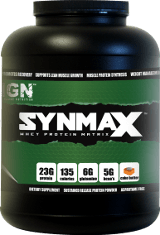 Muscle Gauge Nutrition SYNMAX Protein
Sustained Release Protein Matrix
23g Protein, 6g Glutamine, & 5g BCAAs
Supports Lean Muscle Growth*
Promotes Recovery*
Weight Management*
Muscle Protein Synthesis*
Sustained Release Protein Powder*
Aspartame Free
Muscle Gauge Nutrition, known for the best tasting protein in the industry, introduces its newest creation, a revolutional protein powder formulated to deliver the utmost product quality at a remarkable value. MGN SYNMAX is a multi-functional protein supplement for pre- workout, post- workout, or at any point throughout the day.
SYNMAX is a premium low carb and high protein powder and by far one of the best values on the market. The SYNMAX formula creates a synergistic blend of high quality proteins which result in immediate, secondary, and extended protein digestion. This product ensures that the athlete receives a steady flow of protein into the system throughout the day which aids in the creation of lean muscle mass.*
SYNMAX is the best solution for active individuals in need of a high protein source with 23 grams per serving. A multi-faceted protein packed with high concentrations of Branch Chain Amino Acids, SYNMAX is also a great addition for both athletes and health conscious individuals working on a balanced weight management plan. With SYNMAX's quality, value, and flavor, it is the right choice in a market of overpriced protein supplements.
SYNMAX Frequently Asked Questions
When is the best time to take SYNMAX?
The SYNMAX Whey Protein Matrix has the ideal macronutrient composition to support post-workout recovery. Additionally, SYNMAX may also be used as a protein-enhanced option throughout the day.*
Who can take SYNMAX?
SYNMAX can be utilized by anyone leading an active lifestyle to support workout recovery. Additionally SYNMAX can be used by anyone looking to increase their daily protein intake.*
What types of proteins are found in SYNMAX?
SYNMAX contains a premium blend of whey-based proteins, including fast digesting whey protein isolate, whey protein concentrate, glutamine peptides and slow-digesting milk protein concentrate.