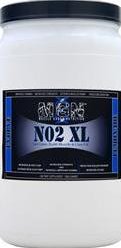 Muscle Gauge Nutrition NO2 XL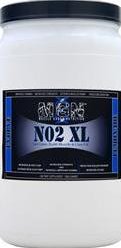 Muscle Gauge Nutrition NO2 XL
Muscle Gauge Nutrition's NO2XL powder, mixed in water, is a best seller because of its mild taste and advanced formula. Bodybuilders, strength trainers, teens and elite performance athletes say that it's one of the most effective nitric oxide supplements because with its advanced formula amino mix, this power pump powder safely delivers on its promise to turn you into a powerhouse with all natural ingredients; no hormones, steroids or their side effects. Drink a Nitric Oxide shake to amp up your muscle volume and workout intensity for better performance; increased strength and stamina; and an extended muscle pump; all by dilating your blood vessels. Our Nitric Oxide powder will stimulate your blood flow, which will allow a fast, steady, enduring nutrition stream to keep feeding your muscles. With the help of our powdered nitric oxide supplements, your skeletal muscles, the muscles you use to move and lift, will have a continuous fuel supply. Muscles that are continuously fueled can remain perpetually pumped and powerful, without fatigue. You'll see and feel dramatic changes in your muscle size, strength and stamina once our nitric oxide supplements help feed your muscles so continuously and so completely well!
What Is Nitric Oxide?
Cells lining our blood vessels produce nitric oxide naturally to regulate blood flow and maintain chemical balance, so nitric oxide is formed in our cells. If you're curious about what is nitric oxide in a powder supplement form, NO2XL powder is a popular body building supplement that helps you build strength and get ripped. Nitric Oxide also helps people suffering from insulin resistance, obesity, clogged arteries, high blood pressure, or cellular inflammation. A Nitric Oxide deficiency can cause sexual performance issues, along with coronary artery issues. Supplementing with Nitric Oxide can provide a dietary fix that can quickly help improve these conditions.
Nitric Oxide (NO2) & Bodybuilding
If you're looking to amp up your workout, reduce recovery time, or you're just after the look and power of that sustained muscle pump - the 'perpetual pump - Muscle Gauge Nutrition's NO2XL powder makes nitric oxide body building a cinch. Mix it with some water, and use it to get ripped, and stay that way. Be smart! Why pump yourself full of androgens or hormones when you can safely rely on Muscle Gauge Nutrition's Nitric Oxide powder to look and feel noticeably more power pumped!
Arginine Nitric Oxide
Muscle Gauge Nutrition's No2XL is one of the best of the nitric oxide supplements because of its advanced formula, combining Nitric Oxide with the aminos AKG, OKG, GKG and A-KIC. AKG and A-KIC are nitric oxide stimulators that are part of Argenine for improved amino acid synthesis and protein availability in your skeletal muscles. GKG is a free form Glutamine amino acid found in muscle that acts as a natural cell volumizer. OKG is part of Ornithine, an amino acid which aides in cell growth and waste disposal. All these amino ingredients combine with nitric oxide to efficiently stimulate a continuous muscle pump up and improved athletic performance. You'll look and feel more ripped, with:
Increased, lasting muscle growth
Increased workout capacity
Increased stamina
Improved recovery time
Improved sexual vigor
Decreased body fat
Our NO2XL powders are amazing nitric oxide supplements, and one of the best body building supplements you can find, just because of their advanced, cutting edge formula. We've put some ultimate power in these powders, and they're ready to boost your muscles, intense athletic performance, and you!