Warning: This product is not currently available at any store.
Click the button above and PricePlow will email you when the first store has it in stock!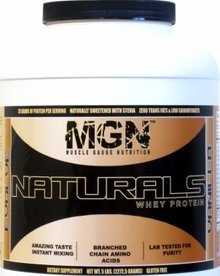 Muscle Gauge Nutrition Naturals Whey Protein
Whey Naturals
In the last 10 years, the demand for natural products has exploded with the growth of the whole foods movement due to new research about the side effects of artificial sweeteners (i.e. Aspartame), and a general consumer awareness of green products. Dietary supplements are no exception to the movement with strong demand for natural flavors and no artificial sweeteners, Muscle Gauge Nutrition's introduced its Whey Naturals line that consists of whey from grass-fed cows free of recombinant bovine growth hormones (rBGH), and sweetened with the ingredients naturally found in the leaves of the stevia plant.
Everyone knows that whey protein is one of the best lean muscle building products, because of this fact; Muscle Gauge Nutrition combined pure whey protein isolate, pure un-denatured whey protein concentrate, whey peptides and skim milk powder to help create this one-of-a-kind, unique, and all-natural product. The different digestion rates of the natural ingredients were combined to help maintain optimal metabolic rate in the human body while keeping it in an anabolic state. This makes Muscle Gauge Nutrition's whey Naturals one of the best products for helping you gain lean muscle in the purest most natural way.
Whey Naturals Facts:
Free of Artificial flavors, Colors, and Sweeteners*
Undenatured Whey Concentrate Provides Whey Protein Micro-Fractions*
Fast acting Whey Peptides and Whey Isolate*
Increased Immune Support*
Boosts Energy*
Provides Essential Amino Acids*
Optimizes Metabolism to Support Fat Loss*