Warning: This product is not currently available at any store.
Click the button above and PricePlow will email you when the first store has it in stock!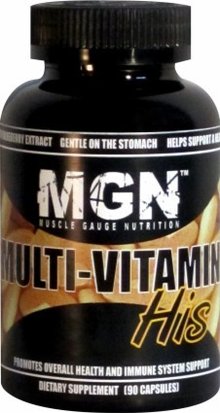 Muscle Gauge Nutrition Multi-Vitamin His
Muscle Gauge Nutrition's Multi-Vitamin His is a complete multivitamin specifically formulated to address the most important health concerns for men while supplementing key nutrients missing in their daily diet. Not only does this product provide all of the recommended vitamins and minerals, it also includes the most effective herbal extracts for promoting overall health and wellness.
Formulated with PABA (para-aminobenzoic acid), a non protein amino acid, which prevents folate defiency. This is important because folic acid is a requirement for protein metabolism, the production of red blood cells, the formation of DNA, and for a healthy brain and nervous system. This product also naturally boosts energy, sexual health, and virility with ashwaganda (proven to be more effective than ginseng), blueberry extract, and ellagic acid. Take care of yourself first, just once a day for your best body and mind using MGN's all encompassing Men's multi-vitamin His.
Formulated to synergistically support:
Prostate Health with Lutein, Vitamin E, Lycopene, and Ellagic Acid.
Immunity with Vitamins C, A, E, and Selenium
Sexual Health with Ashwaganda by reducing stress and anxiety while boosting stamina and energy.
Cardiovascular Health and Physical Energy with essential B-vitamins, Pantothenic Acid, Chromium and Folic Acid
Protein metabolism with PABA (para-aminobenzoic acid)
Virility with Blueberry Extract