Quick Links to Our Prices Price History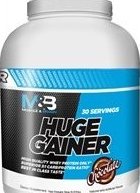 Muscle & Brawn Huge Gainer
*You will be able to access downloadable products by logging in to your store account and clicking Review Orders/Track Packages.
---
Muscle & Brawn Huge Gainer
Huge Gainer is formulated to give you exactly what you need to gain lean mass!


Whey Protein ONLY: The HIGHEST QUALITY protein you can buy with the highest biological value, naturally enriched with muscle-feeding Branch Chain Amino Acids (BCAAs) to feed your hungry Muscles.


The RIGHT amount of carbohydrate to fuel your growing body: Some so-called mass gainers have a 5 to 1 or even 6 to 1 (or MORE!) ratio of carbs to protein. The only reason for this is to reduce cost by adding in an excessive amount of carbohydrates. In turn, you make less gains! We would never sacrifice your gains, so Huge Gainer contains an optimal 3 to 1 ratio of carbs to protein.


Essential Fat: Fats provide the body with the hormonal support it needs to maintain healthy hormonal balance. Without this proper balance, and without the right amount of fat in your diet, you could be sabotaging your gains! Huge Gainer contains an adequate serving of fat to ensure you are in the GAIN ZONE!


To top it all off: Huge Gainer is the Best in Class in taste, mix-ability and goes down easy so you can eat MORE food! Eat to grow, and make HUGE GAINER a daily part of your MASS PLAN!
Each Serving of HUGE GAINER provides the following:


470 Calories
9 Grams of Healthy Fats
75 Grams of Carbohydrates
25 Grams of Protein



See

www.muscleandbrawn.com

for the PERFECT diet to accompany this HUGE GAINER!