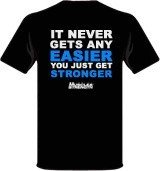 Muscle and Strength "You Get Stronger" T-Shirt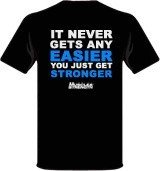 Muscle and Strength "You Get Stronger" T-Shirt
"It Never Gets Any Easier, You Just Get STRONGER"
It's 6 A.M. when the alarm goes off. Time to start another day at the gym. You've got 8 hours of work ahead but all that's on your mind right now is the weights. You feel the tension pull in your traps as you lift your arms to the steering wheel, still sore from yesterday's workout. No matter, today is leg day. How hard do you push yourself today? Maybe you should just take it light. You deserve an easy day. You'll just have to push harder next week.
You arrive at the gym and see the tension in the face of the person who's always there earlier than you, always leaves later. You've made that face before. You know he's pushing as hard as he can, leaving everything he has on the bench. Any thoughts of taking it easy vanish from your mind. It's time to find your limits.
...You feel your hamstrings tighten on the drive to work. You know that flexing your quads just to sit down at your desk will put a grimace on your face. You've felt this before. Maybe you pushed too hard, did too much. But its better than not doing enough. This regret is much more satisfying.
For you the hard work is done. The 8 hours ahead are a cakewalk. Your coworkers don't understand. Why you wake up so early. Why you break yourself down 5 days a week. But you know you're not breaking down. You're building yourself up. "Aren't you big enough?" they ask. "You've been doing this long enough. Shouldn't it be easy by now?" Like I said, they don't understand. If it's easy, you're doing it wrong. It never gets any easier. You just get stronger.