Warning: This product is not currently available at any store.
Click the button above and PricePlow will email you when the first store has it in stock!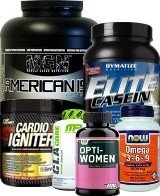 Muscle and Strength Women's Fat Loss Stack - Intermediate
MGN American Isolate - 5lbs
Using an engineered matrix of micro-filtered whey protein isolates and peptides, Muscle Gauge Nutrition American ISO is formulated for superior taste, instantaneous solubility, and the highest concentration of branched chain amino acids for superior muscle metabolism. American ISO is the most cost effective high quality, protein for gaining lean muscle mass. And at only 2g of sugar per serving, you will find no sugar based fillers that only compromise your nutritional and athletic goals. Your sports nutrition options have been simplified with the most obvious choice in protein supplements - Enjoy your results!
22g of High Quality Whey Protein
Great Tasting & Mixes Easily
Excellent Amino Acid Profile
Great Value per Serving
Only 120 Calories
Dymatize Elite Casein - 2lbs
Dymatize Elite Casein provides 24 grams of slow-digesting casein protein per serving. Dymatize 100% Casein is specifically designed to digest more slowly in your body than other rapid release protein sources such as whey. This slow digestion is a result of the natural pH sensitivity of Casein Protein in the digestive track. Because of the natural thickening effect of Dymatize 100% Casein in the low pH environment of the stomach, a prolonged and steady release of protein is obtained. In fact, the resulting digestion can take more than twice as long as other forms of protein. This delayed digestion is often desirable, especially at bedtime or other periods when your body can go for an extended period of hours without food.*
Top Secret Cardio Igniter - 35 Servings
The Cardio Igniter is a new category of pre-workout performance enhancing supplement that focuses on promoting aerobic capacity and burning fat. If your goal is to support your best performance and get ripped while doing it, the Cardio Igniter is the product that can help.*
Helps Boost Aerobic Capacity and Muscle Anabolism*
Helps Protect and Stimulate Lean Muscle Mass*
Helps Accelerate Fat Loss*
Helps Support Concentration and Stave off Boredom*
Provides Stamina-Boosting, Long-Lasting Energy and Endurance*
Provides Key Electrolytes that Help Delay Fatigue and Maintain Mental Alertness*
MusclePharm CLA Core - 90 Softgels
We all know that proper diet and nutrition are the keys to losing weight. We tuned MusclePharm's CLA to be the perfect supplement choice, so you get the most out of you diet and exercise program. Its unique blend of monounsaturated and polyunsaturated fats supports energy sources for hard-training people on low-carb diets. Our harder-working CLA also induces muscle gains without causing the build-up of adipose or fatty tissue. For added benefit, the monounsaturated fat found in our CLA supports your joints, helping you feel healthy, energized, and ready to work.*
Helps Reduce Fat Without Reducing Muscle*
Supports Weight Loss*
Supports Healthy Cholesterol Levels Already in Normal Range*
Promotes Healthy Metabolism*
Supports Loss of Body Fat*
Natural Appetite Suppressant*
Supports Healthy Blood Sugar Levels Already in Normal Range*
Increases HDL*
Antioxidant and Supports Healthy Inflammatory Response*
Promotes Blood Vessel Integrity*
Moisturizes Hair and Skin (Supports Collagen Skin Levels)*
Promotes Healthy Metabolism*
NOW Omega 3-6-9 - 100 Softgels
NOW Omega 3-6-9 provides a balanced blend of two essential polyunsaturated fatty acids (and their derivatives), necessary for many bodily functions: Omega 3 oils from flaxseed and canola, one type of Omega 6 oil (GLA) from Primrose and Black Currant. Oleic Acid, an Omega 9 oil from canola and flax is a monounsaturated fat not considered essential but does play beneficial roles in human health.*
Supports Cardiovascular Health*
Hexane Free Nutritional Oils
Optimum Nutrition Opti-Women - 60 Capsules
Opti-Women Multi-Vitamin provides the perfect balance of vitamins, minerals, antioxidants, extracts and herbs to supplement a women's diet and workout. You will get the most out of life with greater health, better gains, quicker thinking, and more energy by providing your body with all that it needs to operate at optimum levels! Don't hesitate to get the Women's Multi-Vitamin and Mineral supplement that's bettering the lives of thousands everyday!*
Gender-Specific Multi
23 Vitamins & Essential Minerals
Calcium, Iron, & Folic Acid
17 Specialty Ingredients
Soy Isoflavones, Ostivone, & Uva Ursi
Capsules for Easier Swallowing