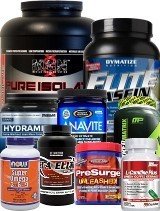 Muscle and Strength Men's Fat Loss Stack - Advanced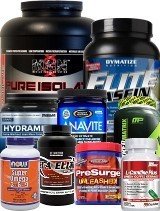 Muscle and Strength Men's Fat Loss Stack - Advanced
MGN Pure Whey Protein Isolate - 5lbs
Muscle Gauge Pure Whey Protein Isolate is the perfect nutritional component to complement your muscle growth, fat loss or fitness program. Packing an awesome amino acid profile, Muscle Gauge WPI is easily digested, lactose free, sugar free, and fat free! Whey protein isolate has been filtered twice through the most technically advanced micro-filters, separating or "isolating" it from any impurities. This is why pure whey protein isolate has the most protein per serving, the least calories per serving, has no fat, no sugar and less than 1g of lactose. Most whey protein products on the market don't even come close to that kind of purity!
25g Whey Protein in Every Serving!
30g Serving Size
Zero Ion Exchange
Zero Fat
Less than 1g Lactose
Superior Amino Acid Profile and BCAA's
Highest PER (Protein Efficiency Ratio)
Highest NPU (Net Protein Utilization)
Easily Digested
Supports Muscle Repair and Recovery*
A Massive 76 Servings per 5lb Container!
No Trans Fats
Gluten Free (Excluding Ice Cream Sandwich Flavor)
Safe for Lactose Intolerant People
Mixes Easily
Loads of Flavors Available: Tastes Delicious!
Dymatize Elite Casein - 2lbs
Dymatize Elite Casein provides 24 grams of slow-digesting casein protein per serving. Dymatize 100% Casein is specifically designed to digest more slowly in your body than other rapid release protein sources such as whey. This slow digestion is a result of the natural pH sensitivity of Casein Protein in the digestive track. Because of the natural thickening effect of Dymatize 100% Casein in the low pH environment of the stomach, a prolonged and steady release of protein is obtained. In fact, the resulting digestion can take more than twice as long as other forms of protein. This delayed digestion is often desirable, especially at bedtime or other periods when your body can go for an extended period of hours without food.*
Athletic Edge PreSurge
The pre-workout category is one of the oldest most cluttered categories in sports nutrition today. Sadly, if you look closely at the supplement facts panels of many of these products, you will see the same OLD SCHOOL formula that has been around since early 2000. And despite huge evolutions in sports nutrition research, these pre-workout formulas stay the same. We see NO reason to recycle old largely ineffective, outdated formulas, simply to try and make slight improvements, like other companies do. Staying true to our tradition of bringing out ONLY premium, innovative, uncompromised formulas, we are pleased to introduce PreSurge!
Supports Nitric Oxide Synthesis & Vascularity with patented GlycoCarn*
Promote Blood flow, Engorging Muscles bringing on Muscle Fullness & Hardness*
Specifically Designed to Prime & Sensitize Your Muscles for The Anabolic Flood of Muscle Building Peptides & Amino-Acids brought about from our Intra-Workout IntrAbolic. Phase-2 in our Nutrient timing stack.
MusclePharm Amino1
Sustained Energy And Great Taste For Increased Endurance*
Delicious Tasting And Only 5 Calories Per Serving*
Caffeine And Sugar Free - Can Be Used Anytime, Day Or Night*
Anti-Catabolic / Muscle Sparing*
Mixes Easily And Completely / No Clumping
Promotes Recovery From Training Sessions*
Specially formulated for all athletes, quick-absorbing Amino 1 brings stamina, hydration, muscle building and in-workout recovery in "1" comprehensive formula. Amino 1 gives you power and supplies free form amino acids, instantized BCAAs, and a complete electrolyte balance.*
MusclePharm Shred Matrix - 120 Capsules
Shred Matrix is the most powerful fat loss system available. Shred Matrix is unique – utilizing a comprehensive, multi-system approach to fat loss. Powerful, but safe and effective for both men and women, Shred Matrix utilizes the body's multiple energy pathways and systems to cause aggressive mobilization of fat to be burned for fuel. Shred Matrix also addresses all the key issues that make fat loss difficult in the first place. Shred Matrix improves energy and alertness, enhances mood and mental function, destroys cravings and helps keep appetite in check.*
Accelerate fat loss*
Utilize fat first for energy*
Direct nutrient repartitioning*
Support greater nutrient absorption*
Destroy sugar cravings / block fat storage*
Control fluid balance*
Enhance mood, energy and focus with no jitter
Betancourt CLA Elite - 90 Softgels
Research shows that CLA supplementation may promote positive effects on body composition and may contribute to an overall healthy body. Potential benefits of CLA are as follows:*
CLA may promote positive effects on body composition.*
CLA may promote glucose tolerance.*
CLA may be a growth factor.*
CLA has multiple benefits relating to metabolic syndrome.*
CLA may help regulate abdominal fat.*
CLA has been investigated for fat to lean repartitioning.*
CLA is being investigated for multiple positive effects on human health.*
CLA has been investigated for its role in levels of body fat for healthy, exercising humans.*
L-Carnitine + Green Coffee Extract - 60 Capsules
Top Secret Nutrition's L-Carnitine Plus Green Coffee Extract is a synergistic fat burning support blend, designed to boost energy and metabolism while promoting fat loss. Loaded with 800mg of Green Coffee Extract per serving this unique supplement is the perfect choice for those looking to lean out and feel good during the process.*
Provides Metabolic Energy*
Transports Fatty Acids To Muscle Tissue*
Helps Support Body Fat Reduction*
Helps Stimulate Fat Oxidation*
Improves Thermogenesis*
NOW Super Omega 3-6-9 - 90 Softgels
Super Omega 3-6-9 is a blend of Fish, Borage and Organic Flax Seed Oils. This combination of well-known nutritional oils provides a unique balance of Omega-3 and Omega-6 Essential Fatty Acids plus Omega-9, a non-essential, but beneficial fatty acid. The Omega-3's, Alpha Linolenic Acid, EPA and DHA, and the Omega-6, GLA, are necessary for the maintenance of cardiovascular, nervous system and skin health. Oleic Acid, an Omega-9, has also been shown to promote a healthy vascular system.*
Supports Cardiovascular Health*
From Borage, Flax Seed & Fish Oil
Gaspari Anavite
ANAVITE is far beyond a normal multivitamin. It's really 3 supplements in 1. An athlete's multivitamin/mineral formula with optimal, clinically validated doses of Beta-Alanine and Carnipure (L-Carnitine L-Tartrate) for promoting increased endurance and nitric oxide levels while optimizing recovery, thus supporting aerobic and anaerobic athletic performance.*
Increases Androgen Receptor Content in Muscle*
Optimize Post Exercise Muscle Recovery*
Promotes Vasodilation And Nitric Oxide Availability*
Increases Vasodilation and Nitric Oxide Availability*
Contains High Quality Multivitamin & Mineral Formula*