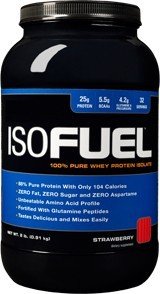 Muscle and Strength IsoFUEL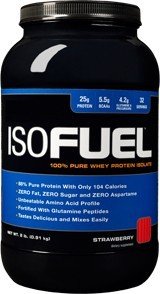 Muscle and Strength IsoFUEL
Muscle & Strength IsoFUEL sets a new standard in protein quality, mixability and taste. Made from 100% American-sourced pure whey protein isolate, IsoFUEL delivers 25g of protein per serving with only 104 calories. IsoFUEL is designed for any muscle building, fat loss or fitness program with an unbeatable macronutrient and amino acid profile, zero fat and sugar, and more protein per gram than other protein powders.
Muscle & Strength IsoFUEL Features:
100% Pure Whey Protein Isolate
25g of Protein Per 28.4g Serve
Zero Fat
Zero Sugar
Less Than 1g of Lactose
Tastes Delicious with 19 Flavors Available
Mixes Easily in Only 6-8oz of Liquid
Aspartame/Acesulfame K Free
Unbeatable Amino Acid Profile
Fortified With Glutamine Peptides
More Protein By Gram Than Other Products
A Massive 80 Servings Per 5lb Container
IsoFUEL Nutritional Profile
IsoFUEL is made from 100% pure American-sourced whey protein isolate. Why did we choose pure whey protein isolate? Because whey protein isolate has been filtered twice through the most technically advanced micro-filters, separating or "isolating" it from impurities. This is why pure whey protein isolate has the most protein per serving, with the least calories per serving, zero fat, zero sugar, and less than 1g of lactose. Most whey protein products on the market don't even come close to that kind of purity!
Maximum protein utilization is essential to muscle recovery, growth and maintaining a positive nitrogen balance, which is critical during periods of intense training. There is no higher standard of protein than IsoFUEL, so feel confident that you will be feeding your muscles to their fullest potential, without the additional fat, calories and carbs.
IsoFUEL Taste & Mixability
We know how important taste and mixability are when it comes to protein powders. When you purchase a protein powder you want to ensure that you're getting a great tasting product. You'll be amazed at just how good IsoFUEL tastes, and how effortlessly it mixes. IsoFUEL is a protein shake you'll look forward to!
IsoFUEL is available in 19 delicious flavors, so you can always find a flavor that suits you. Our mix-and-match bundles also let you pick and choose different flavors and save money in the process by buying them in a bundle.
IsoFUEL Price Advantage
When most companies make an "economical" protein supplement, quality is often compromised in the interests of keeping prices low. This means the customer ends up getting less protein per serving, with more fat, cholesterol and calories. This is not the case with IsoFUEL. We only use 100% American-sourced pure whey protein isolate.
The reason we can offer such a high quality product at such a low price, is because we cut out all the middle men. IsoFUEL is made exclusively for Muscle & Strength and comes straight from the manufacturing facility direct to our warehouse where we sell it directly to you.
IsoFUEL Quality Guarantee
Every batch of IsoFUEL produced must pass a rigorous set of quality control and taste tests before it leaves the manufacturing facility. This is why we offer a full quality guarantee on every tub of IsoFUEL product sold.