Warning: This product is not currently available at any store.
Click the button above and PricePlow will email you when the first store has it in stock!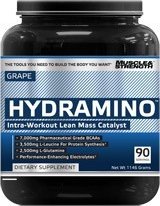 Muscle and Strength HYDRAMINO
Muscle & Strength HYDRAMINO sets the quality standard for intra-workout BCAA supplements. Providing premium quality pharmaceutical grade BCAAs, HYDRAMINO maximizes training endurance and intensity, increases muscle protein synthesis, and promotes recovery during training.*
HYDRAMINO Features:
7,000mg of pharmaceutical grade BCAAs (L-Leucine, L-Isoleucine and L-Valine)
Scientifically validated and real world proven 2:1:1 BCAA ratio*
2,500mg of L-Glutamine to preserve L-Leucine as well as promote an anabolic environment*
Electrolytes for proper muscle cell hydration and contractions during intense training*
Vitamin B6 for optimal BCAA utilization*
Amazing taste (you've never tasted a BCAA product this good!)
Micronized for effortless clean mixing
Batch tested for quality and purity
100% money-back satisfaction guarantee
What Can You Expect From HYDRAMINO?
Increased Muscle Protein Synthesis*
Reduced Muscle Protein Breakdown*
Increased Energy & Endurance Capacity*
Increased ATP Synthesis/Resynthesis*
Increased Muscular Endurance*
Improved Recovery From Intense Training*
Improved Hydration During & After Training*
Improved Insulin Response*
Increased Power Output*
Download the scientific studies about the ingredients found in HYDRAMINO here.
HYDRAMINO Reviews by Athletes
PNBA PRO Cindy Sampson says:
"Amazing flavor! I have tried other powdered amino products and prefer the taste on this one. I was impressed with how I was able to lose weight and gain muscle while taking Hydramino. I would definitely recommend this to friends."
IFPA PRO Champion Philip Ricardo Jr says:
"I have been using the Hydramino for 2 straight weeks now and here is my honest assessment:
The taste of Hydramino is excellent...when you are dieting for a contest or just need something sweet for your taste buds it does the trick and keeps a nice tasting Blue Raspberry taste in your mouth throughout the workout.
Also, Hydramino mixes very well...no clumps or excessive residue. I felt that taking the Hydramino allowed me to have a little extra energy during the end of my workouts compared to before...even when taking a preworkout drink! I used to feel a little empty the last 15-20 minutes of my weight training sessions and this helped alleviate some fatigue during that time. I also feel like I recover quicker after training...I feel tight and sore immediately after the workout but I dont have the same next day tightness as I did in the past.
The only negative feedback I can give is that at times I found myself tasting a little peanuty flavoring if I burped during the workout (sounds a little gross) but thats not a show stopper for me with this product. If its effective, and it has been for me, then a little peanut burping wont prevent me from taking the product.
I would definitely recommend anyone who trains hard and is preparing for competition or just needs a little extra endurance and recovery during and after your workout to try Hydramino."
IFPA/NGA Pro Melissa Fischer says:
"I love it! It's by far the best mixing BCAA's I've had. I use a little more than a scoop in a gallon of water everyday, and all I need to do is give the jug a few shakes and It's instantly mixed. The flavor is great. Not too sweet, but just enough flavor to get me through my couple of gallons of water a day. In addition I mix it with my training shakes and I mix it with a strawberry flavored protein powder. It's like a fruit smoothie."
WNBF Natural PRO Francisco Montealegre says:
"Taste:I requested the blue raspberry flavor of hydramino for my review and it was very good. I mixed 2 scoops with about 30oz of water and I definitely enjoyed it. Really nice taste overall.

Mixability:Hydramino mixed very well for a BCAA product. I had some small leftovers at the bottom of my shaker but that didn't bothers me at all. As a matter of fact I was expecting it because as far as I know BCAAs don't have a natural tendency to dissolve well with water. To solve this I added a little more water once I drink it down about a third, but for the most part it all stays mixed in.

Value:As far as value is concern, 90 serving will cost you $48.99. This is not an inexpensive product but definitely is a little bit less expensive than its competition. Little pricey for sure, but for the effectiveness of the BCAAs and what you're getting from it as far as improved recovery, muscle protein synthesis support etc it's totally worth it in my opinion.

Effectiveness:The ingredient profile is what attracted me to test this product in the first place. Like I stated before, with a 2:1:1 Ratio,7000mg of BCAAs per serving plus electrolytes and glutamine we can't go wrong with this supplement. As they say "Branch chain aminos are the building blocks of muscle"

Overall:Great product overall, I will definitely use it again."
Tim Jorgenson says:
"I got a jug of this and wanted to use the entire thing before posting.
This stuff is now my permanent replacement! It has the 2:1:1 ratio that has been researched so I know I'm getting what I want.  And is priced right.  I have used a few other sale BCAAs before and was never happy.
Taste: Perfect, not too sweet and really quite right. Has a great flavor profile.
Mixability: No problems, mixes instantly and has no floating residue like some others. I even one time put it in my gallon jug and got side tracked. When I came back a few minutes later it was almost completely dissolved, no shaking. When it is put in it starts to sink and is dissolved before it hits the bottom of my jug.
I really can't wait to try the other flavors.  The other brands original grape was my favorite and I'm sure to not be disappointed by this one!"
Natural Bodybuilding Coach Cliff Wilson says:
"This is a great BCAA product! It has a 2:1:1 ratio of leucine: isoleucine: valine, which has been shown to be the most effective ratio for muscle growth. It is also a great price for a product that is extremely effective. The mixability was far superior to many other BCAA products that I have tried and the grape and watermelon flavors were excellent. They weren't too sweet or too bitter, just right. I was very pleased and can't wait to try the other flavors."
HYDRAMINO F.A.Q.
What is HYDRAMINO?
HYDRAMINO is the ultimate premium quality, electrolyte-enhanced, intra-workout BCAA product. The formula used in HYDRAMINO contains a massive 7,000mg of pharmaceutical grade BCAAs (L-Leucine, L-Isoleucine and L-Valine), 2,500mg of L-Glutamine to preserve L-Leucine as well as promote an anabolic environment, and electrolytes for proper muscle cell hydration and contractions during intense training.*
In addition to a potent nutritional profile, HYDRAMINO tastes amazing and mixes effortlessly. We spent over 6 months perfecting the flavoring system for HYDRAMINO and you'll be blown away by just how good it tastes. Whether you take it during your workout or sip throughout the day, HYDRAMINO is a product you'll LOOK FORWARD to drinking!
Who should use HYDRAMINO?
HYDRAMINO was specifically designed to be used by anyone (male or female) who is serious about improving their physique and increasing performance. Users of HYDRAMINO can include professional athletes, bodybuilders, strongmen/powerlifters, endurance athletes, sports athletes (football, basketball etc.), and anyone who works out.
When should HYDRAMINO be taken, and how much?
HYDRAMINO is designed to be taken during your workout, and between meals on non-training days. Mix 1 scoop of HYDRAMINO per 10oz of cold water. Shake well and start sipping 15mins prior to and throughout your workout. Recommended doses during training are 2 scoops for males and 1 scoop for females.
Is HYDRAMINO safe?
As part of Muscle & Strength's commitment to premium quality products, HYDRAMINO is manufactured is a GMP/NSF registered facility and every batch undergoes rigorous quality assurance and analytical testing to validate ingredient purity and potency. Every Muscle & Strength product is backed by a 100% money-back satisfaction guarantee.
References:
"Branched-chain amino acids activate key enzymes in protein synthesis after physical exercise." Blomstrand E, Eliasson J, Karlsson HK, Köhnke R. J Nutr. 2006 Jan;136(1 Suppl):269S-73S.
"Effect of branched-chain amino acid supplementation on the exercise-induced change in aromatic amino acid concentration in human muscle." Blomstrand E, Newsholme EA. Acta Physiol Scand. 1992 Nov;146(3):293-8.
"Effects of branched-chain amino acid supplementation on serum creatine kinase and lactate dehydrogenase after prolonged exercise." Coombes JS, McNaughton LR. J Sports Med Phys Fitness. 2000 Sep;40(3):240-6.
"Plasma lactate, GH and GH-binding protein levels in exercise following BCAA supplementation in athletes." De Palo EF, Gatti R, Cappellin E, Schiraldi C, De Palo CB, Spinella P. Amino Acids. 2001;20(1):1-11.
"Branched-chain amino acid supplementation increases the lactate threshold during an incremental exercise test in trained individuals." Matsumoto K, Koba T, Hamada K, Tsujimoto H, Mitsuzono R. J Nutr Sci Vitaminol (Tokyo). 2009 Feb;55(1):52-8.
"Branched-chain amino acid supplementation before squat exercise and delayed-onset muscle soreness." Shimomura Y, Inaguma A, Watanabe S, Yamamoto Y, Muramatsu Y, Bajotto G, Sato J, Shimomura N, Kobayashi H, Mawatari K.
"Branched-chain amino acids augment ammonia metabolism while attenuating protein breakdown during exercise." MacLean DA, Graham TE, Saltin B. Am J Physiol. 1994 Dec;267(6 Pt 1):E1010-22.
"Branched-chain amino acid ingestion can ameliorate soreness from eccentric exercise." Jackman SR, Witard OC, Jeukendrup AE, Tipton KD. Med Sci Sports Exerc. 2010 May;42(5):962-70.
"Effects of squat exercise and branched-chain amino acid supplementation on plasma free amino acid concentrations in young women." Shimomura Y, Kobayashi H, Mawatari K, Akita K, Inaguma A, Watanabe S, Bajotto G, Sato J. J Nutr Sci Vitaminol (Tokyo). 2009 Jun;55(3):288-91.
"Nutraceutical effects of branched-chain amino acids on skeletal muscle." Shimomura Y, Yamamoto Y, Bajotto G, Sato J, Murakami T, Shimomura N, Kobayashi H, Mawatari K. J Nutr. 2006 Feb;136(2):529S-532S.
"Branched-chain amino acid supplementation and the immune response of long-distance athletes." Bassit RA, Sawada LA, Bacurau RF, Navarro F, Martins E Jr, Santos RV, Caperuto EC, Rogeri P, Costa Rosa LF. Nutrition. 2002 May;18(5):376-9.
"Influence of branched-chain amino acid supplementation on urinary protein metabolite concentrations after swimming." Tang FC. J Am Coll Nutr. 2006 Jun;25(3):188-94.
"The effect of BCAA supplementation upon the immune response of triathletes." Bassit RA, Sawada LA, Bacurau RF, Navarro F, Costa Rosa LF. Med Sci Sports Exerc. 2000 Jul;32(7):1214-9.
"Effect of oral glutamine on whole body carbohydrate storage during recovery from exhaustive exercise." Bowtell JL, Gelly K, Jackman ML, Patel A, Simeoni M, Rennie MJ. J Appl Physiol. 1999 Jun;86(6):1770-7.
"Effect of physical activity on glutamine metabolism." Agostini F, Biolo G. Curr Opin Clin Nutr Metab Care. 2010 Jan;13(1):58-64.
"Glutamine protects against increases in blood ammonia in football players in an exercise intensity-dependent way." Bassini-Cameron A, Monteiro A, Gomes A, Werneck-de-Castro JP, Cameron L. Br J Sports Med. 2008 Apr;42(4):260-6. Epub 2007 Nov 5.
"Does glutamine have a role in reducing infections in athletes?" Castell LM, Poortmans JR, Newsholme EA. Eur J Appl Physiol Occup Physiol. 1996;73(5):488-90.
"Glutamine metabolism and function in relation to proline synthesis and the safety of glutamine and proline supplementation." Watford M. J Nutr. 2008 Oct;138(10):2003S-2007S.
"Increased plasma bicarbonate and growth hormone after an oral glutamine load." Welbourne TC. Am J Clin Nutr. 1995 May;61(5):1058-61.
"Clinical use of glutamine supplementation." Wernerman J. J Nutr. 2008 Oct;138(10):2040S-2044S.
"Influence of Hydration and Electrolyte Supplementation on Incidence and Time to Onset of Exercise-Associated Muscle Cramps." Jung AP, Bishop PA, Al-Nawwas A, Dale RB. J Athl Train. 2005 Jun;40(2):71-75.
"Fluid and electrolyte loss and replacement in exercise." Maughan RJ. J Sports Sci. 1991 Summer;9 Spec No:117-42.
"Recovery from prolonged exercise: restoration of water and electrolyte balance." Maughan RJ, Shirreffs SM. J Sports Sci. 1997 Jun;15(3):297-303.