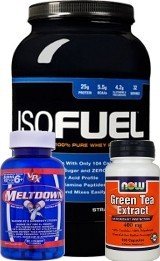 Muscle and Strength Fat Loss Starter Stack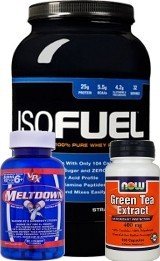 Muscle and Strength Fat Loss Starter Stack
The Fat Loss Starter Stack is designed for those looking to shed the fat without breaking the bank! With this stack you get a tub of BPI Sports ISO HD 100% Whey Protein, VPX Meltdown, a top selling thermogenic fat burner, and NOW Foods Green Tea Extract!
Why This Stack Works To Burn Fat
VPX Meltdown is a powerful and extremely popular thermogenic fat-burner that utilizes maximum strength liquid capsules for superior absorption and rapid results. This highly advanced method of delivering fast-acting fat-burning compounds makes Meltdown a great choice when it comes to weight-loss products.
BPI Sports ISO HD will help you cut down calories, increase intake of vital protein and amino acids, and keep hunger down between meals. ISO HD easily mixes up with milk or water and tastes delicious! One serving of ISO HD gives you 25g of ultra-pure 100% Whey Protein.
NOW Green Tea Extract offers a convenient way to obtain the active constituents of Green Tea in a concentrated form. Green Tea Extract supplies numerous bioactive compounds, including Polyphenols and Catechins, that provide potent antioxidant and health-supporting benefits.*
What's In The Fat Loss Starter Stack?
BPI Sports ISO HD 100% Whey Protein - 1.6lbs
ISO HD contains 25 grams of ULTRA PURE, ULTA PREMIUM, 100% WHEY PROTEIN ISOLATE & HYDROLYSATE. ISO HD is designed to support lean muscle growth and increased strength. With its relatively low calorie count and multi-functional blend of protein sources, ISO HD is perfect not only post-workout, but also between meals. The nutritional profile of ISO HD is unmatched, tastes deslicious and mixes instantly. If you're looking for a premium isolate protein supplement with an innovative, adaptable profile and unrivaled taste, this is it!*
ISO HD contains the most advanced flavoring technology, resulting in a taste so delicious you'll have to try it to believ it. Only the finest flavoring components delivering the absolute best gourmet, mouthwatering flavors available anywhere. ISO HD is not only loaded with 25 GRAMS OF PROTEIN per scoop, but it also packs more servings per container than the majority of the competition!*
100% Whey Protein Isolate & Hydrolysate
25g Protein Per Serving
Ultra Fast Absorption*
Lean Muscle Growth*
Rapid Muscle Recovery*
VPX Meltdown 60 Capsules
What's the supplement that burns fat faster than an ice cube melts in the Sahara? Meltdown mi amigo! In a study unveiled at the June 2008 International Society of Sports Nutrition Conference in the beautiful Red Rock Hotel, researchers discovered that this fat eliminating supplement jacked up metabolic rates so much so that it left scientists scratching their heads as to how it compared to other popular thermogenics. That's a finding of groundbreaking proportions.
What does this mean? Think about it Sherlock. If you take Meltdown before training, your metabolic rate will go through the roof faster than Anderson Silva can put you in an arm bar! You'll get rid of fat faster and you'll get that lean physique you've always worked for and deserve!
The Research & Development group at VPX has more earth-shattering science coming down the pike this year. So buckle your chinstraps and get ready for the ride of your thermogenic life! Hasta la vista!
NOW Green Tea Extract
Powerful Free Radical Scavenger
NOW Green Tea Extract offers a convenient way to obtain the active constituents of Green Tea in a concentrated form. Green Tea Extract supplies numerous bioactive compounds, including Polyphenols and Catechins, that provide potent antioxidant and health-supporting benefits. The free radical scavenging properties of Green Tea Extract act through multiple mechanisms to support overall health and well-being. These compounds have been found to help protect against oxidative stress and may also help to maintain a healthy inflammatory response.*