Quick Links to Our Prices Price History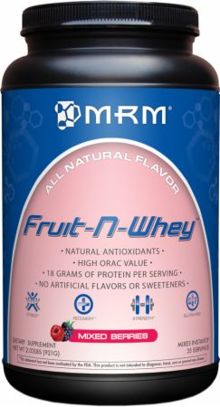 Most of us have an increasingly hectic lifestyle, which makes meeting nutritional needs more and more difficult. Getting the recommended daily amount of fruits is vital to providing your body with antioxidants to counteract the effects of free radicals. Equally important is maintaining proper protein intake throughout the day to maintain optimal metabolic function. Everyday stress, environmental pollutants, natural metabolic processes and exercise generate different types of free radicals. Oxidation occurs when these unstable free radicals, in an attempt to gain stability, damage cells by stripping electrons away from properly functioning cellular components such as lipid membranes, DNA, RNA, and proteins. These transactions only transfer the instability to these components creating a new free radical and starting a chain reaction antioxidants are exceptional molecules that may help to provide support against this chain reaction.*
MRM's BeneFruit Blend combines the vitality of 10 fruits all known to be packed with an assortment of antioxidants to provide a broad spectrum of antioxidant support.* The Oxygen Radical Absorbance Capacity (ORAC) assay demonstrates the total antioxidant power of a sample, with the USDA and research recommending a daily intake between 3,000 and 5,000 units. Fruit-N-Whey delivers over 3500 ORAC units per serving of natural antioxidants.
Fruit-N-Whey provides an ultrafiltered, low temperature processed whey protein concentrate with crossflow microfiltered whey protein isolate. These specialized processing systems provide a High Biological Value (HBV) in the form of short and long chain peptides to support protein retention.* Fruit-N-Whey is also remarkably high in branched chain amino acids (BCAAs), which are the most required amino acids for maintaining metabolic rate (energy) especially during dieting or periods in between meals.*
Regardless of your lifestyle daily stress negatively impacts your immune system. Whey protein consumption has been suggested to support immune system function by increasing glutathione concentrations, a major antioxidant.*
High ORAC Value
Natural Antioxidants*
18g Protein Per Serving
No Artificial Flavors or Sweeteners
You May Also Like
MRM 100% All Natural Whey
Now With NitroZyme For Enhanced Protein Absorption!*
MRM Flax-N-Whey
Excellent Source Of ALA, DHA, & EPA Omega-3s!