Quick Links to Best Prices Price History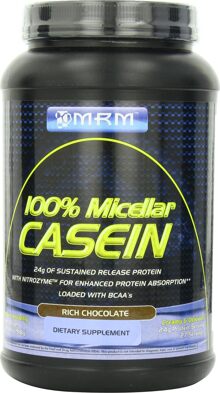 MRM's 100% Micellar Casein is a slow digesting, complete protein, with a unique feature of Sustained Amino Acid Release and Anti-Catabolic action.* Because of micellar casein's inherently unique 3-dimensional amino acid composition and structure it aggregates in the low pH of the stomach. This unique characteristic results in prolonged digestion, slowly over time providing a steady, continuous release of amino acids into the blood stream.* The prolonged release effectively helps reduce catabolism and provides muscles with sustainable pool of amino acids to reduce muscle breakdown.*
MRM's 100% Micellar Casein comes with NitroZyme, a blend of bioactive enzymes which helps the body to efficiently digest and absorb the amino acids that can then be shuttled directly into the muscle tissue. This satisfying drink is most beneficial for nighttime use, between meals or anytime the body goes hours without protein.
24g of 100% Premium, Anti-Catabolic Micellar Casein!*
Promotes Strong, Lean Muscle!*
With 10g of BCAA's and Glutamine Precursors!
With Enzymes for Optimal Absorption and Utilization!*
Mixes Instantly and Tastes Great!