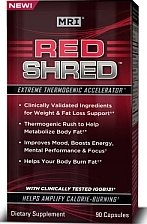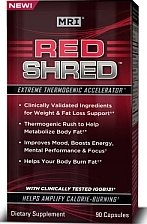 EXTREME THERMOGENIC ACCELERATOR
Clinically Validated Ingredients for Weight & Fat Loss Support
Thermogenic Rush to Help Metabolize Body Fat
Improves Mood, Boosts Energy, Mental Performance & Focus
Helps Your Body Burn Fat
MRI'S ULTIMATE THERMOGENIC THRUSTER
RED SHRED is a highly advanced, thermogenic thruster fully loaded with powerful, clinically tested compounds. This is the most potent, metabolic activating formula that MRI has ever produced. Our blend of compounds has yielded one of the most powerful fat-burning supplements available on the market today. Each dose of RED SHRED ignites a raging fury of calorie-burning, focus-honing, energy- enhancing and fat- metabolizing effects.
IGOB131
IGOB131 is a premium grade, standardized seed extract of the Irvingia Gabonensis tree, otherwise known as the African Mango. Emerging research suggests that Irvingia extract offers benefits that specifically support weight loss and healthy cholesterol management. In one study alone, IGOB131 users lost an average of 28 pounds in only 10 weeks!
ALL SYSTEMS GO
RED SHRED was expressly developed to engage a full range of metabolic factors that impact fat-burning performance. RED SHRED houses an explosive arsenal of advanced thermogenic agents formulated to light the metabolic fuse. A healthy dose of premium Cayenne Pepper ( capsaicin ), the compound that give shot peppers their "sizzle", helps to drive up the heat while Green Tea EGCG amp up fat metabolism.
BLOCKS CARBOHYDRATE ABSORPTION
Carbohydrates provide the body's primary source of metabolic fuel. However, if not properly managed,carbohydrates can "dump" into the bloodstream after meals – resulting in blood sugar "highs and lows." Additionally, excess blood sugar from carbohydrates may be converted into unwanted energy reserves as body fat . To counter this potential, some dieters strive to cut carbohydrates from their diets. In doing so, they deplete their bodies of vital muscle fuel and propel their bodies into lean muscle-destroying catabolism. RED SHRED has a better solution – Phase2 Carb Controller.Phase2 Carb Controller helps block the enzyme that digests starchy carbohydrates. The result is a delay in carbohydrate absorption , which helps provide the body with a slow and steady supply of carbs –an ideal scenario for athletes and dieters that are fighting hard to maintain a healthy weight.
* These statements have not been evaluated by the Food and Drug Administration. This product is not intended to diagnose, treat, cure, or prevent any disease.