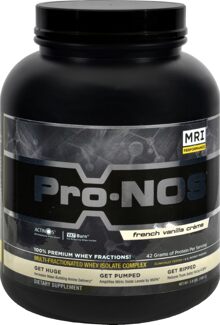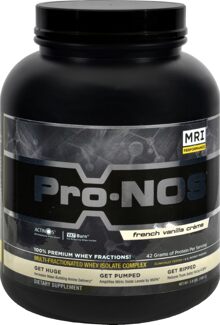 It takes 6,000 lbs of Whey To Produce 1 Tub of Pro-NOS!
Pro-NOS is the crowning achievement of a worldwide collaboration of experts in the field of protein research. The combined research that inspired Pro-NOS spanned three continents and involved one of the largest protein companies in the world – Glanbia International. The result of the groundbreaking research was a novel compound, validated by clinical trials for it's amazing effects. In the hands of MRI's team of highly skilled formulators, this compound yielded a landmark breakthrough in protein supplementation – Pro-NOS.
This incredible compound is ACTINOS, a tiny fraction painstakingly isolated from whey protein peptides. This is no small feat. It takes 6,000 pounds of whey protein to yield enough ACTINOS for just one tub of Pro-NOS. However, the end result is well worth the effort*
Nitric oxide (N.O.) is a signaling molecule that triggers blood channels to widen. In turn, this "widening" of blood channels supports optimal, nutrient-flowing circulation. However, N.O. production is "limited" by an enzyme called "Nitric Oxide Synthase" (NOS). Simply put, NOS enzymes are the "factories" that churn out muscle-pumping N.O. molecules. By amplifying the number of NOS enzymes, the "ACTINOS Fraction" has been shown to increase N.O. levels.*
The MRI researchers leveraged the full potential of ACTINOS by incorporating it into a precise blend of premium proteins. Thus the name, Pro-NOS. It's the perfect descriptor for a virtual powerhouse of NOS-fueled protein. Each Pro-NOS shake ignites a flood of circulation that helps to deliver core amino acids to growing muscle. Pro-NOS represents the upper echelon of performance protein technology. This is pure muscle "food" in a jug.*
What is Pro-NOS?
Pro-NOS is the absolute highest quality protein. Let us explain. You know whey is the best protein for muscle growth. You know whey protein isolate is absorbed faster than whey protein concentrate. And now, with Pro-NOS, you get whey protein isolate that is "multi-fractionated" from regular whey isolate, giving you highly refined whey protein fractions that target specific metabolic pathways in the human body.
Pro-NOS consists of the ACTINOS fraction that is designed to up-regulate nitric oxide synthase, and the VAT-Burn- fraction that has been studied to help burn visceral adipose tissue (VAT), or belly fat.
In addition, the Pro-NOS multi-fractionated whey is blended together with the highest quality whey protein concentrate so your body absorbs all 42 grams of whey protein over an extended time.
Pro-NOS Results
Build More Muscle - Faster!
Your muscle growth depends on two factors: 1) how many aminos you can deliver to your muscle cell and, 2) how long you can keep the process of constructing new muscle (protein synthesis) cranking. With Pro-NOS, you do both – at the same time! You see the whey fractions you find in Pro-NOS not only provide your body with the best muscle-building amino acids you can find, but they also increase nitric oxide!*
Pro-NOS Tastes Great!
With Pro-NOS, you can also expect great taste. Pro-NOS comes in four mouth-watering flavors: Dutch Chocolate Royale, French Vanilla Creme, Banana Cream and Cookies & Cream.
The Science Behind Pro-NOS
Arginine + NOS = Nitric Oxide
Your body has an enzyme called "Nitric Oxide Synthase" (NOS). That enzyme converts the arginine you supplement - or ingest - into nitric oxide. The problem is, you have a limited number of NOS enzymes - restricting the amount of nitric oxide your body can produce. Now see how the 'Actinos Fraction' of Pro-NOS increases NOS.*
The Power of "Fraction" Technology
How can the small fractions in Pro-NOS give you such huge results? Simple. You see, all whey isolates come in peptide "chains." Ordinary whey isolates, like you find in today's whey products, occur in long "random" chain lengths. They may help supply your body with aminos - but do little more. Now observe the Pro-NOS difference! The Pro-NOS Fraction Technology identifies, and "cleaves off," the two tiny "specific" fractions that help you build bigger, thicker muscles fast - then go way, way beyond!*
Pro-NOS: The Landmark Scientific Achievement - Through World-Wide Collaboration
Here is something you should know - before you try Pro-NOS. The Pro-NOS product represents the largest world-wide scientific research collaboration on protein ever known. The research spanned 3 continents. It involved the science team from one of the largest protein companies in the world - Glanbia International. It relied on MRI's team of skilled formulation experts - hired directly from the major pharmaceutical companies. That's the reason why you can try Pro-NOS with absolute confidence.*