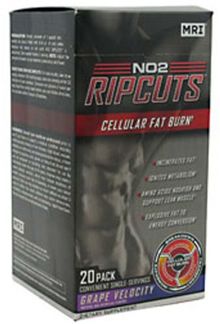 MRI NO2 RIPCUTS Cellular Fat Burn-Grape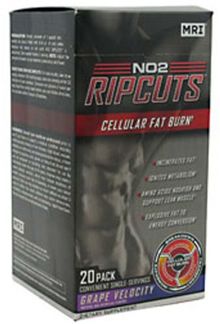 MRI NO2 RIPCUTS Cellular Fat Burn-Grape
MRI RIPCUTS Cellular Fat Burn Orange Ripcurl Description
Incinerates Fat
Ignites Metabolism
Amino Acids Nourish and Support Lean Muscle
Explosive Fat to Energy Conversion
Burns Fat to the "NTH" Degree!
MRI can now unleash your body's untapped transformation potential with the powerful nitric oxide precursor Arginine. NO2 RIPCUTS helps the body "drill" deep into the core of cellular fat metabolism. There, these powerful compounds engage and amplify a cascading chain of events that release and transport lipids to their ultimate demise; the "fatburning furnaces" of cells. Finally, the very "epicenters" of fat-burning can now be reached and "switched on" with NO2 RIPCUTS
1. BREAKDOWN
NO2 RIPCUTS contains clinically validated ingredients to help boost metabolism and launch cellular fat oxidation into an extreme calorie and fat burning zone. At the very same time, amino acids in NO2RIPCUTS helps support and preserve lean muscle that may be lost during calorie-restricted dieting.
2. TRANSPORT
NO2 RIPCUTS contains compounds that help ignite your body's metabolic furnace and engage its fat-burning mechanisms. It starts with transporting fats to the body's fuel burning centers (the mitochondria) where they are used for energy.
3. INCINERATE
Precision ingredients in NO2 RIPCUTS helps the body release and preserve norepinephrine, the thermogenic activator. This helps escalate peak metabolic activity in the body for an extreme thermogenic experience. NO2 RIPCUTS helps drive the body's ability to maximize incineration of unwanted body fat.
Directions


Preparation: Empty contents of 1 packet into bottle (or glass) filled with 8-16 oz. of cold water. Replace lid; shake or stir until NO2 RIPCUTS is dissolved. One packet makes 1 serving. Note: Adjust the amount of water to your desired consistency and flavor.

Directions For NO2 RIPCUTS: For best results, take on an empty stomach. On training days, take on serving within 30 minutes of your workout. Consume ten glasses of water per day. Read the entire label before use and follow directions. Do not take within 5 hours of bedtime.
Disclaimer These statements have not been evaluated by the FDA. These products are not intended to diagnose, treat, cure, or prevent any disease.