Warning: This product is not currently available at any store.
Click the button above and PricePlow will email you when the first store has it in stock!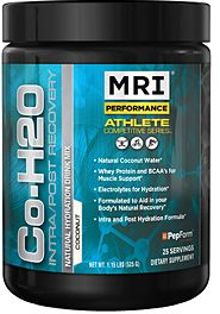 Natural coconut water & Protein drink mix
MRI Co-H2O offers what athletes need most: Natural electrolyte replenishment and muscle support. This specialized recovery formula contains pure coconut water, which is rich in key vitamins and minerals, such as sodium, potassium and magnesium, plus energy yielding carbohydrates.*
Co-H2O is formulated with whey protein isolate and cutting edge Pepform BCAA. Whey is a fast absorbing protein that supports oxygen delivery to tissues, immunity and strong muscles.* The BCAA's supply exercise fuel while helping to counter one of athletes' biggest performance enemies, the loss of lean muscle.
Co-H2O is MRI's active recovery solution. This exclusive formula helps to supply energy and offset muscle breakdown. When used during and immediately after exercise, Co-H2O helps support your ability to train and compete at your very best.*
co-h2o - key points
Natural Coconut Water
Whey Protein and BCAA's for Muscle Support*
Electrolytes for hydration*
Formulated to aid in your body's natural recovery*
Intra and Post Hydration Formula
Co-H2O is a groundbreaking performance formula.*
Co-H2O an active intra/post workout recovery formula that leverages the natural rejuvenating power of coconut water.*
The addition of fast absorbing whey plus Pepform BCAA to help support lean muscle and drive active recovery.*
co-h2O and immune fit
It's all about supporting athletic potential and maintaining good health. Co-H2O Intra/Post Recovery formula helps to supply energy, replenishes electrolytes, and offsets muscle recovery. Beta Glucan, the key ingredient in IMMUNE FIT is clinically suggested in athletes to support the immune system.* This helps to maintain good health which aids in recovery and overall training potential.*