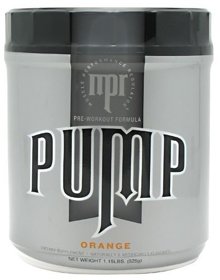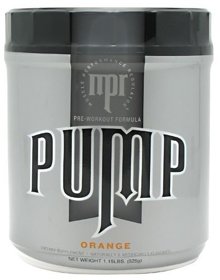 It's time to unleash the freak inside and leave them all behind. From the first serving, MPR PUMP will engorge, expand and hyperhydrate your muscles for skin-splitting pumps and firehose-sized vascularity. Get ready to experience razor sharp mental focus that amplifies your training intensity and performance.
MPR Pump Features:
Power-Packed Pumps
Maximum Mental Focus
Reduces Muscle Fatigue
Improves Muscle Power
Reduces Cellular Damage
Improves Lean Body Mass
The Real World Definition of the "PUMP"
For experienced bodybuilders, the sensation of tight congestion, or swelling in your muscles with blood, during your weight training session is the "PUMP". Now, a weight trainer with several months under the iron already knows that if you lift heavy enough weights, and don't rest too long between sets, your working muscles will become swollen with blood. In scientific speak, this is referred to as reactive hyperemia because it involves an increase in blood flow (i.e., hyperemia) in response (i.e., reactive) to the exercise stimulus. Hold that thought.
In truth, the real reason advanced bodybuilders "gauge" their training efforts by how intensely "PUMPED" each individual muscle group becomes is simply this; "if you lift heavy enough weights, and don't rest too long between sets (otherwise known as progressive overload), your working muscles will become swollen with blood". In turn, it is the bodybuilder who has busted their hump trying to put an inch on their arms that truly understands progressive overload. Trouble is how do you maintain increasingly more difficult levels of work effort that's necessary to move to the next level of size, strength and muscularity? We believe that answer lies in science based performance supplements, and is the fundamental reality to how our new product development team developed MPR PUMP.
So what's the difference, don't other products use the same logic? The short answer is many do not. While others rush to alter their existing formulas to maximize their effectiveness, bodybuilders and elite athletes alike know that it's time spent in the gym under the heavy iron is where you will maximize your work capacity.
So, now you know that you have our rationale of what striving to attain a super pump really means to your muscle building goals and here is where we're radically different from many other products marketed in the pre-workout, or pump category. To be blunt, we do not formulate MPR PUMP to primarily trigger a boost in nitric oxide. Why? Well because to date there are numerous and very different "physiological roads" proven in University research that will allow you to get an even better pump. This is simply achieved by applying the progressive muscle overload principle by maximizing work capacity.
Attaining an honest "PUMP" that leads to maximum performance and true muscle growth increases your ability to deliver progressive overload.
MPR PUMP: Under the Hood
You now realize that progressive muscle overload is at the very core of the MPR PUMP formulation. If you dedicate your training to maximize this principle, you will experience progress in every major performance marker, like size, strength, endurance and lower levels of body fat, while never having to worry about getting a maximum pump each and every time you train. Understanding how to monitor this aspect of your physique is also a valuable tool for assessing your anabolic status. The following grid is designed to help you understand the rationale behind every key ingredient we consciously formulated into MPR PUMP. We think you'll agree that these ingredients will create an environment conducive to muscle growth, recovery, and skin-splitting pumps.
Muscle Performance Matrix
Ingredient(s): (Creatine Monohydrate, Beta Alanine, Creatine Magnesium Chelate, Dicreatine Malate)
Primary Function: Integrated dual action complex responsible for promoting rapid resynthesis of the body's energy currency, and adenosine triphosphate (ATP). In addition, the complex also buffers lactic acid that builds up during high-intensity activities; this process can reduce muscle burn and fatigue.
The result is the ability to lift heavier loads, for more repetitions, with less rest between sets.
Why It's Important: Creatine monohydrate stacked with beta-alanine seems to have the greatest effect on increasing lean tissue development and reducing body fat levels compared to taken each compound separately.
These two compounds work together to increase intramuscular creatine concentrations (ATP energy), and buffer changes in intramuscular pH, for enhanced strength, power, endurance and muscle mass.
Muscle Pump Matrix
Ingredient(s): (Glycerol-Silica Matrix, Arginine AKG, Taurine, Citrulline Malate, Cinnulin PF Patented Cinnamomum Burnammii Extract (Bark) 3% Type-A-Polymers, Polygonum Cuspidatum (root) 20% Resveratrol, Gynostemma Pentaphyllum (Leaf) Gypenosides, RC-NOS Rutaecarpine, Gamma Tocopherol)
Primary Function: Precise array of key compounds and co-factors that provide three discrete mechanisms of action to maximally drive levels of vital fluids up inside working muscle cells.
World-class cyclists often use glycerol because it provides a hyper hydration effect by "mechanically" drawing fluids inside the muscle cell. Dehydration can significantly reduce muscle contractile performance .
Research has shown that citrulline malate increases the rate of oxidative ATP production during exercise, and a 20% increase in the rate of phosphocreatine recovery after exercise. This indicates a larger contribution of oxidative ATP synthesis to energy production.
Cinnulin PF has been shown in clinical settings to reduce circulating blood sugar, by disposing it into working muscle cells.
Research has indicated that polyphenols and herbs standardized for biologically active constituents can increase nutrient availability in working muscle cells by opening up blood vessels through vaso-dilation.
Why It's Important: An increase in fluids, blood flow and nutrient availability is the foundation for fueling progressively more difficult training sessions. Muscle cells use fluids for the following:
To hold vital energy components inside the muscle cell, such as glycogen and Adenosine triphosphate (ATP), the key energy "currency" of your cells.
To transport the waste build up from muscle fiber contraction out of the cell.
To accept nutrients that are critical to the health, maintenance, repair and building of muscle cells.
These nutrients are amino acids, carbohydrate molecules (glycogen stores), hormones, oxygen etc.
Acute Energy/Neuro Modulation System
Ingredient(s): (Acetyl-L-Tyrosine, Choline Bitartrate, L-Tyrosine, Caffeine Anhydrous, Huperzine A1%)
Primary Function: Delivers a critical nutrient cluster that drives mental clarity, alertness and focus, so athletes perform at their highest level.
The amino acid L-tyrosine is a precursor for the neurotransmitters such as dopamine and norepinephrine that provide mental energy and focus.
Caffeine is a xanthine alkaloid compound that stimulates the central nervous system, temporarily increasing alertness. It is the most widely consumed legal psychoactive agent (a substance that affects brain functioning) in the US.
Choline is found in almost all animal tissues and is necessary for normal synaptic transmission, meaning it provides fuel for neural connections that drive mental and muscular function.
Huperzine A provides the ability to maximize the cholinergic neural firing systems and helps to round out the focusing effects of the entire complex to drive you through the most aggressive workouts.
Why It's Important: Mental energy and focus is the foundation for progressive muscle overload. If you're dedicated training is to maximize this principle, our acute energy/neuro modulation system will allow you to experience progress in every major performance marker; like size, strength, endurance and lower levels of body fat. Oh yeah, you'll have to deal with one side effect; getting a massive pump each and every time you train.
Conclusion
From the first serving, MPR PUMP will prime your muscular machinery to train over your head––the hallmark of progressive overload. In return, this increase in work combined with key compounds found in MPR PUMP, will engorge, expand and hyper hydrate your muscles for skin-splitting pumps and fire hose-sized vascularity. By adding MPR PUMP to your training program you can finally experience razor sharp mental focus that amplifies your training intensity and performance, for lasting gains. This is the real world supplement strategy that not only produces power-packed pumps, but also puts you on the path to achieve those individual muscle building and athletic goals that only you can visualize. Get on MPR PUMP, because Muscle Performance Is Personal.